Do Good Report - Our Grower Research
Have you seen our Do Good Report 2021-22? Here's a taste of some of the research behind it.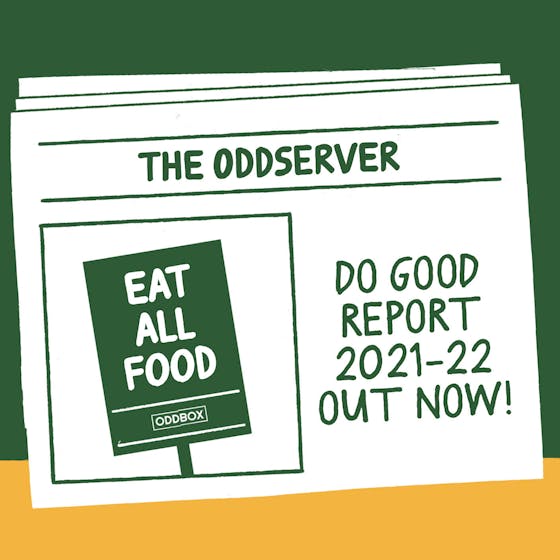 WHAT WAS THE RESEARCH?
In 2022, we teamed up with sustainability  experts, 3Keel for a nine-month-long research project with more than 30 of our growers to help better understand how we're making a difference in the fight against food waste. 3Keel asked the growers about our current impact and for recommendations on what more we can do. And we dig into some of that here…
WHAT DID THEY FIND?

The research framework was all based around the reasons food goes to waste and our guiding principles  – the fact that we're grower-led and can be flexible with what we rescue, and that we'll only rescue "too odd" or "too many" fruit and veg.
We don't contract production with growers or ask them to grow specific things for us
We have broader specifications than other retailers
We're a reliable secondary market for growers with "too odd" or "too many" fruit and veg
We can impact harvesting decisions, meaning less fruit and veg is left in the field because there isn't a good home for it to go to
We play a vital part in helping people understand that fruit and veg doesn't have to look perfect to taste great
DIGGING DEEPER.
We were pretty chuffed to learn that, when 3Keel asked our suppliers, "Do you think Oddbox are playing an effective role in fighting food waste?", a whopping 100% of them answered, "yes". In fact, a cherry supplier said" [The existence of Oddbox] allows the grower to pick more of the fruit rather than discard at harvest as we know we have an opportunity to sell."

And, from speaking to all of the suppliers involved in the research, 3Keel said they "clearly see Oddbox as playing an important role in minimising [food] waste."

It was also great to learn that suppliers value the work we do to raise awareness of how even odd-looking fruit and veg can still taste good.  One of our suppliers said we're "[playing an important role] in educating the consumer that appearance should not affect consumption." and 3Keel went as far to say that we're  "set apart from other fresh produce retailers (including supermarkets) by the ability to communicate a message to the consumer." Just what we like to hear.
A FAIR PRICE.
And it wasn't even all about food waste. 3Keel's research found that, understandably, price is an important factor when it comes to suppliers choosing a secondary market. And we were happy to hear that the price we pay is another reason suppliers like working with us.  According to 3Keel, we help growers  "add value to excess and Class II produce." which, in turn,  helps support farmer livelihoods and increases farm viability.
Growers also said our ethos (our mission to fight food waste), reliability and flexibility were important, too. Our asparagus supplier said they "really like" our business ethos, and a tomato supplier said we "lead by [our] principles and have compassion for the produce industry as well as food waste".  We work really hard on all of this, so feedback like this is music to our ears.

ROOM FOR IMPROVEMENT. 
On top of the tonnes of good stuff, the research also unpacked what growers would like us to do to make even more of an impact. Top of the list? Champion "odd" even more. So, we're looking at how we can better communicate information about  the pear-fectly edible defects on some of the odd-looking fruit and veg we rescue. We're also looking at how to help growers find homes for some of the lower-quality fruit and veg at risk of going to waste. Oddbox juice or sauce, anyone? Watch this space…

Growers said we could also improve our impact by improving food waste measurement.  The research found that 63% of our growers do measure waste, but that there was limited consistency in how they did it. Not only are we working on ways to reduce food waste in our supply chain, we're also committed to championing more consistent food waste measurement with our growers, and other businesses.

And last, but not least, our suppliers would like to see us share more information about our mission with them and with our customers.  We've already got loads of ideas on how to do this, digging deeper into where the fruit and veg in our boxes comes from and why it's at risk of going to waste, so keep your eyes peeled for that.

Dig into the full Do Good Report here.