Do Food Miles Matter?
"The UK has a once-in-a-lifetime opportunity to reshape the food system," said Henry Dimbleby when he published his government-commissioned review of the British food system. So what kind of grade does he give the Gov's long-awaited national food strategy?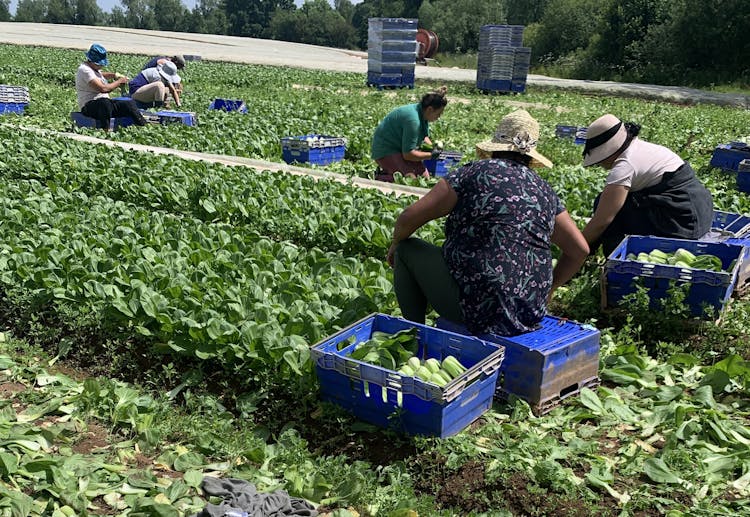 We all know food mile emissions aren't great, but it turns out that what's on your plate matters more than how far it travelled to get there. As farms face staggering seasonal worker shortages, we celebrate the gleaners.
FEEDING THE NATION
The Gov's national food strategy – the first since war rationing – was finally published last month. For a plan meant to position the UK as "a leader on food and environment," the reaction has been mixed, to say the least.
"Thin gruel but with some silver linings," wrote The Soil Association. "[Ministers are] ignoring the science and their own experts," said Louisa Casson, head of food and forests at Greenpeace UK.
That expert would be restaurateur Henry Dimbleby, who was commissioned by the government in 2019 to lead a review of the UK's food system. His reports, which addressed issues from unhealthy eating to climate-driven food insecurity, also laid out proposals for how to tackle them. So what was Dimbleby's assessment of the Gov's (long-awaited) white paper in response? "It's not a strategy," he said.
While pledges such as labelling changes related to health and animal welfare have been made, there are a whole host of suggestions not being implemented, including: a tax on sugar and salt, the expansion of free school meals, and increasing environment and welfare standards in farming.
One of Dimbelby's food waste findings: more than 25% of food grown in the UK isn't eaten, and that's just on the farm. Once food left farms, households accounted for 70% of food waste and manufacturers for 18%. Although the Gov recently announced it will consult on food waste reporting, that scope only applies to large businesses and ​​leaves farms out in the cold. With the Gov's stated commitment to meeting the UN Sustainable Development Goal to halve global food waste by 2030 – which some experts say consultation delays show how low it ranks on the priority list – it's difficult to see how this will be achieved without addressing the significant factor of farm-level waste.
Want more deets about the plan? Here's a handy cheat sheet of the salient points.
FROM FARM TO FORK 
A new study around food mileage is out, and the evidence suggests that what's on your plate matters more than how far it travelled to get there. Food mile emissions aren't great, but if your goal is reducing your diet's carbon footprint, then consider the overall emissions impact of what you're eating. In other words: more veg, less carbon culprits like meat and dairy. (Turns out cheese-making = very resource-intensive).
Everyone in advanced economies eating a little less meat would go a long way, with the potential to cut carbon emissions by 29% within the next thirty years. If we're talking impact, that's quite a bit more than the 9% reduction of food-miles emissions that we'd get from eliminating all international food transport.
"I think it's [about] a 're-architecting' at the plate," said Birgit Cameron, head of Patagonia Provisions, the under-the-radar food arm of the eco-retail pioneer. "Helping people discover that plant proteins, plants, grains, and beans can become complete proteins."
The UK might even see sustainability join the official 5-a-day diet advice. Old habits die hard, though. "There's definitely an association between meat and status," said Mark Malden, head chef at zero-waste caterer Lettice Events. "People also just don't believe that a vegetarian menu could be that filling". Perhaps plant-based just needs a bit of a rebrand. After adding "Cumberland spiced" to their meat-free sausage menu item, Sainsbury's cafes saw sales jump by 76%. 
WHAT A WASTE
It might be peak season for soft fruit and veg, but British farmers are facing a staggering labour shortage due to a perfect storm of limited seasonal worker visas, post-Brexit recruitment issues, and the loss of Ukrainian workers. While some farms have managed to find people to pick their crops, others have been dealing with major challenges. For berry growers alone, this has resulted in annual waste nearly double in value from 2020 to 2021, and is predicted to double again this year.
So the BBC's spotlight on volunteer harvesters, aka gleaners, feels especially good to watch. (Warning: prepare to have your heart warmed).
While last month's environmental news cycle was a heavy one, allow us a moment to nerd out about all the wins as of late.  
 Feeling like food waste is more on your mind? Awareness around the issue has more than doubled in the past two years, according to a new study from the Capgemini Research Institute. Social media searches around increasing the lifespan of foods have surged 80%. 
The EU is looking to set new food waste reduction targets. Spain is leading the charge, with legislation being introduced that would compel restaurants and grocers to team up with food banks. And scientists in the States have developed an alternative to plastic food packaging. The biodegradable, plant-based wrap can destroy harmful bacteria and prevent spoilage. Avocado lovers will be pleased to know that it can even extend their shelf life by 50%.
Perhaps the best news of all? Despite the melting Arctic sea ice, a small group of polar bears appear to be beating the extinction odds.
Mother Nature. She's got a way of fighting back.