Crunch Time
We've written a cookbook! You can get your hands on it now! Hungry for more? Here's the lowdown on everything Crunch Time.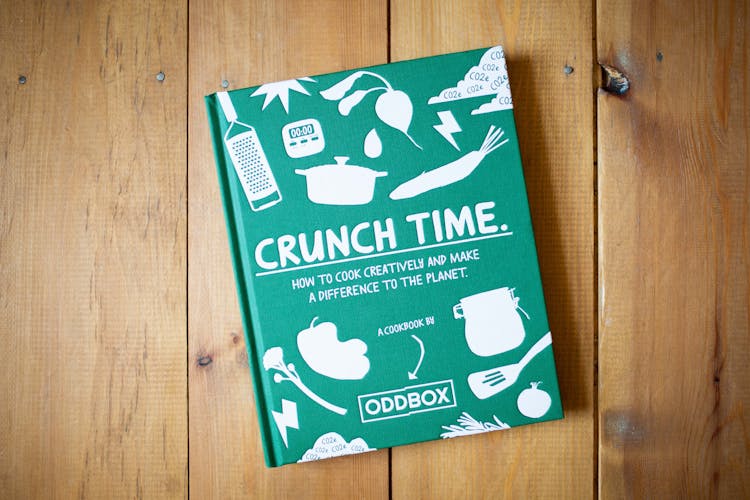 What's it about?
Crunch Time is all about cooking creatively to help make a difference to the planet. No more shopping for ingredients to find out you had half of them in the fridge. Instead, you'll make the most of what you have and swap ingredients you don't have to make something deliciously odd.
With over 70 low-waste recipes, from chuck-it-all-in tagines to fruity desserts, there really is something for everyone to tuck into.
But it's more than just a recipe book. The first half is jam-packed with tips on techniques and tools to set up a waste-free kitchen, as well as hacks on which ingredients can be swapped for what. All to help you get the most of the fruit, veg and herbs you already have at home.
Who wrote the recipes?
All of the recipes (plus the tips) are created by food-waste activist and chef, Martyn Odell (also known as lagomchef) and our resident chef, Camille. You might recognise Martyn from our socials – he's been sharing some handy food-waste-fighting hacks over there recently. And you might have tried some of Camille's delicious dishes from our website.
Why did you write it?

Food waste is a huge contributor to climate change. And our mission is all about fighting it,  rescuing fruit and veg that's already been grown and at risk of going to waste for being "too odd" or "too many". Since 2016 our community has rescued a huge 35,000 tonnes of fruit and veg that might have gone to waste (impressive, right). But we wanted to take it one step further.

So, we created this cookbook to help you, our community, fight the problem of food waste in their own homes. We wanted to show people that fighting food waste is as simple as making the most of what you already have. Sure, it might require a slight shift in how you think about food and how you use your kitchen, but it's also about having a whole lot of fun (and enjoying some pretty tasty dishes) along the way.
When can I buy it?
Crunch Time is available to buy right now. You'll also be able to buy it as an add-on with your fruit and veg – so keep your eyes peeled for the add-ons emails.

Follow us on Instagram and TikTok for behind-the-scenes content and sneak peeks of the recipes and hacks inside the book to get a taste of what's to come.