Community content round-up
We love hearing from our humble Oddbox community - you're a creative bunch and you never disappoint with your submissions. Here's our round-up of the excellent content you've been sending through.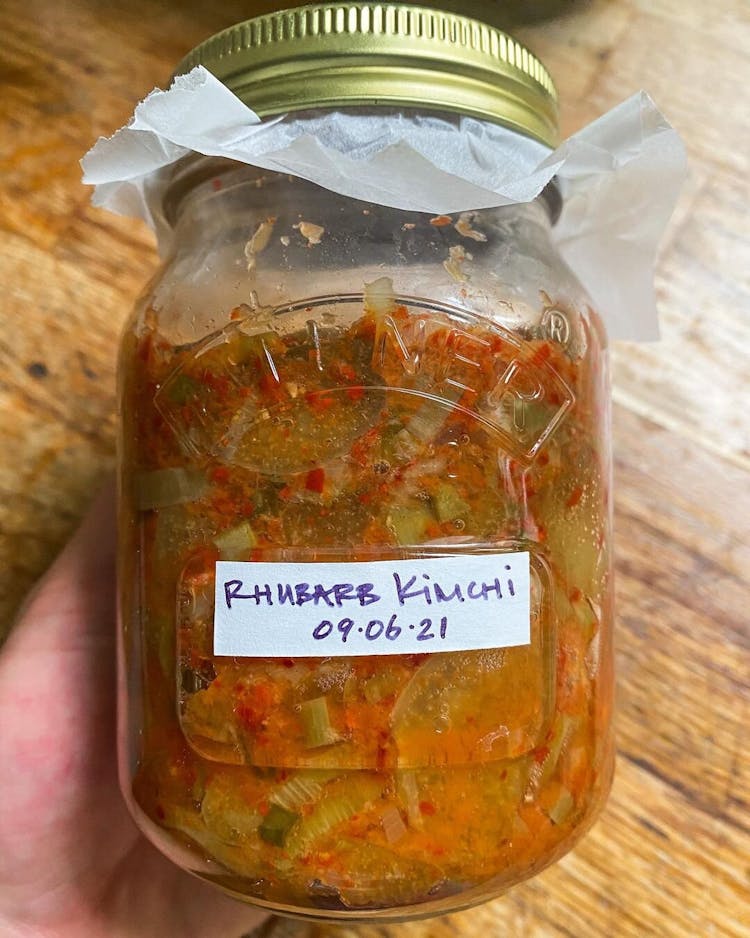 RHUBARB KIMCHI
What's your go-to recipe for the rhubarb in your box? Do you make a crumble? Blend it with gin? There are a hundred things you can do with the tart flavours of rhubarb. @plantandpickle over on Instagram went delightfully outside the box and made this rhubarb kimchi from his Oddbox rhubarb. "I found myself with some leftover @oddboxldn rhubarb in our crisper and not wanting it destined for another baked pudding, I made kirstenkshockey's rhubarb kimchi". 
SUMMER KUKU
Kuku (also spelt 'kookoo') is an egg-based, vegetarian dish from Iran. It's made with beaten eggs, then various ingredients are folded into the mixture. It can be fried or baked, and eaten hot or cold. @saffron_and_herbs on Instagram made a Summer Kuku using easily sourced ingredients – kale, red pepper, potato and red onion. "I use garlic, smoked paprika and chillies for the aromatic notes, which results in a smoky and gently warming feel to eating this even when eaten cold."
ASPARAGUS LOAF
Asparagus is not only good to fry up in a stir fry or boil as a side – it's great to bake with too. @make_most_of_life on Instagram made this stunning asparagus loaf from the asparagus in her box. "Haven't made one for a while, so decided to try something #new". 
STEAMED CHINESE CABBAGE
"Lighter nights calling for lighter dinners", says _thegoodbowl on Instagram. They're talking about the Chinese cabbage they got in their box, which they "lightly steamed and dressed in a light tamari & sesame oil mix, with broccoli, quinoa and a smoky squash dip".
PERSIMMON AND SEVILLE ORANGE MARMALADE
Catherine emailed us to let us know about the award-winning marmalade she's been making. "I thought you'd be tickled to know that I made marmalade for the first time this January using your persimmons and the Seville orange add-ons. It was tasty so I entered it into the Dalemain World Marmalade Awards in the "With a Twist" category and won a Silver! Silver awards go to marmalades in the category that rank 18 or 19 out of 20. I got full marks for presentation and colour, and for flavour, aroma and harmony! My lack of expertise cost me 2 points on the texture of the peel." Congratulations Catherine!
ODDBOX-THEMED CUPCAKES
@clapham_cakes over on Instagram made Oddbox-themed cupcakes. As you can see, they're both compact and cute. We love them to pieces! 

GLAZED PLUM CAKE
Have some leftover plums that are starting to go soft around the edges? Using the plums from their box and a recipe from BBC good food, @thelexypage on Instagram created this glorious glazed plum cake. 
RHUBARB GIN COCKTAIL
Top marks go to @Isabinkle on Instagram for using and reusing their rhubarb stems for different purposes. "Looks like it's rhubarb gin time again! Thanks @oddboxldn. I even made rhubarb, ginger and gin jam with the soaked rhubarb stalks from last year's gin - doesn't look pretty but the taste is top. No waste!" 
MESS-FREE COMPOST POTTING
Our community continues finding new and practical uses for their cardboard boxes from Oddbox. @Ma_dicken_M on Instagram uses it when they're potting indoors. "I've found that doing it inside a large cardboard box is the only way I don't get soil everywhere. The soil stays in the box and it's then easy to take outside for your flowerbed or compost or wherever it's needed. Here I'm using yesterday's @oddboxldn"
FATHER'S DAY GIFT BOX
Dulcie Rowe emailed us to tell us about how their kids turned their Oddbox box into a substitute for wrapping on Father's Day. "I thought you'd like to see my kids have turned an Oddbox into a gift box for Father's Day. We realised the box is a perfect size to hold his gifts for tomorrow. Thanks for coming to the rescue and saving us from buying any wrapping paper or gift bags!"
A BOOK ALL ABOUT BEING 'ODD'
Pamela has been busy writing a book that she kindly gifted to us. "I have recently written a book about being 'different' in all life especially in vegetables and fruit. I am delighted that you take in wonky ones and wondered if you would be interested in the book as an appreciation of your wonderful work to save them." You can find the book here
SEND US YOUR IDEAS
What do you get up to with the contents of your box - or the box itself? Or have we inspired you to create something brilliant? Share your Oddbox-related recipes and tips with us to be included in the next community round-up. We love all of your ideas and look forward to hearing from you!