Rain again and again.
It's been one of the wetted Julys on record in the UK, meaning that crops are growing "too big", "too odd" or even "too fast" for retailer demand. With temperatures soaring in June, some might have found this a light relief, but for our growers, it has caused havoc. Here's how it's been impacting the fruit and veg in your boxes.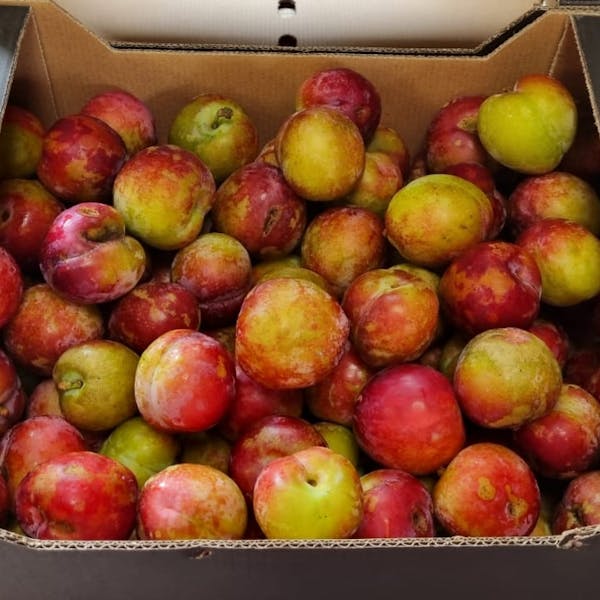 Potatoes
Potato prices remain high which is at least part to do with the weather. This is because the new season potato skins aren't setting well with so much rain. Breakdown issues have been cropping up on spuds because of the wet harvesting conditions and in some cases, harvesting hasn't been able to happen on time. Even when potatoes are pulled out of the ground, the changes in weather have left them looking "too odd", leading to more food waste. Dry weather helps to set the skins, so our growers at Burgess Farms are hoping for some sunnier days, otherwise their whole crop could be at risk of going to waste.
Plums
If all this rain wasn't enough, some fruit and vegetables have been affected by other unusual weather conditions for Summer, including plums that have been scarred  by hail damage. This puts them in Class 2, which can include any fruit and veg which is reasonably good quality, but features some imperfections or defects like mild bruising or damage, or a change in colour. But, due to these "too odd" looks, they have been rejected by most retailers.
Broccoli
At Oddbox we were recently offered 160,000 heads of broccoli from two different growers. Both growers were left with "too many" due to a combination of the crop bolting, and a low retail demand. The crop "bolts" when it receives mild weather and rain (which we have had plenty of lately). And the retailers don't yet require such huge volumes leaving them at risk of going to waste.
Kale
Similar to broccoli, kale, which is also part of the brassica family, is experiencing a huge surplus leaving "too many" than growers can find good homes for. This July, the temperature is around 8 degrees lower than last year, perfect growing weather for broccoli so this hardy British root vegetable is thriving, leading to crops growing a bit "too big". 
Harvesting
Harvesting crops is taking a lot longer for growers than normal, with Karl Frankin, a West Yorkshire farmer mentioning that "due to the lack of sunshine, harvesting the crops is taking almost a week to do, which normally takes 3 days".
Quality
Another worry for growers is the quality of produce as this tends to decrease over time, so if crops stay in the wet ground for a long time, things can get tricky quality-wise – if the crop is affected badly enough that it can't be harvested, the time, energy and money that went into the growing it, is wasted along with the crop.
What We're Doing
As always at Oddbox, we aim to support as many growers as possible, not only with rescuing produce which is at risk of going to waste, but also by offering growers a viable secondary market where they can sell their fruit and veg, so that they don't miss out on income if their food is rejected by retailers. 
Want to hear more about our growers? Read about our recent visit to the strawberry farm, why pak choi was recently rejected by retailers and hear about all things tomatoes here.