Beetroot pasta sauce with cauliflower gnocchi
This week's recipe creator and medical student - Bonnie - has shared an amazing recipe, that makes you discover two vegetables in COMPLETELY new ways.
She shows us how to use cauliflower to make a healthier version to Gnocchi, and from scratch! An amazing hack that will deepen your love for this versatile vegetable, that's for sure.
Beetroot is used to give the pasta sauce an amazingly bright colour and adds fibre, manganese and potassium to your standard pasta dish.
Bonnie says "It's an easy recipe which is very tasty. The pasta sauce can be served with regular pasta, and the gnocchi is just an extra addition (however I LOVE it and the dough can be used as a pizza base too, and can be frozen!)"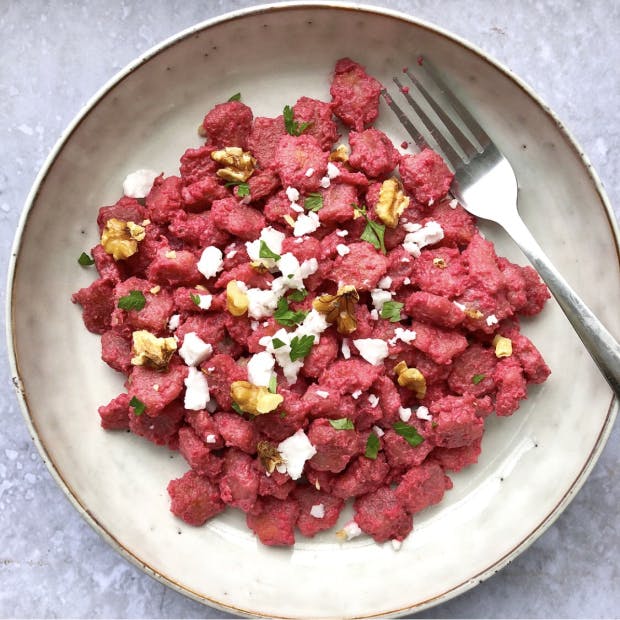 INGREDIENTS
Pasta sauce:
1 tsp Olive oil
2 Medium onions (diced)
1 tsp Garlic (chopped)
2 Beetroots (roasted)
150g Quark (you can also use ricotta, cream cheese)
Salt & pepper to taste
Gnocchi:
1 large Cauliflower (1kg)
500g Plain flour
1.5 tbsp Olive oil
1/2 tsp Salt
To serve: walnuts, parsley, feta cheese
METHOD
Make the sauce: Over a medium flame, heat the olive oil. Once hot, add the medium onions and garlic and sautée for 5 minutes. In a blender, combine the beetroots, quark, onions and garlic and blend until smooth. Add salt and pepper to taste
Make the cauliflower gnocchi: Chop the cauliflower into smaller pieces and steam until soft, for about 10 minutes.
Transfer the cauliflower onto a clean tea towel and squeeze out excess water – try to get as much out as possible or you will need more flour! Add it to a blender, along with the olive oil, salt and half the flour.
Pulse until a dough forms, adding more flour if needed. Transfer the dough to a floured surface and knead for about 5 minutes. Section the dough into 8 pieces and roll into a sausage shape.
Cut each sausage into 0.5-1 inch pieces, using the back of a fork to create ridges. Place the gnocchi into a pan of boiling water and boil until they begin to float to the surface (about 3 minutes). Drain and transfer to a lightly oiled pan, fry for a few minutes to make them crispy then add the pasta sauce, stir and enjoy!
Serve with some walnuts, parsley and feta cheese!
Tips:
You can also roll the dough out with a rolling pin (about 0.5 inch thick) and use a cookie cutter to cut the gnocchi into shapes!
Thanks to Bonnie for the recipe!
How long have you been cooking? I've always enjoyed cooking, but I first started properly in my first year of university in 2013!
Cooking style: Healthy, fresh and delicious.
Favourite cooking method: Sautéing
Favourite vegetable? That's a hard one! Either kale or sweet potato
If you want to find out more about how Bonnie stays healthy living a busy lifestyle, read our interview with her here.
Find Bonnie at @bonniebrazilb and on www.bonniebrazilb.com.