A whole lotta shallots
We caught up with Tom Abrey from Abrey Farms in Norfolk to have a chat about the seven tonnes' worth of shallots we're about to rescue at Oddbox and put in our customers boxes.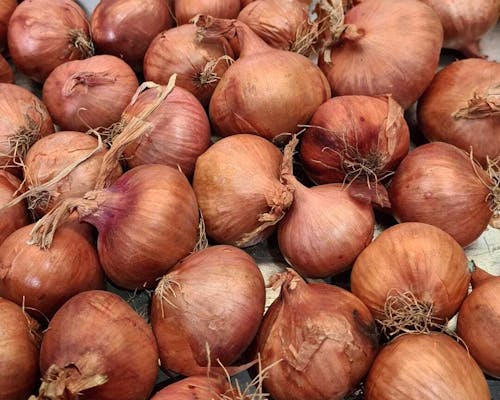 Smaller, sweeter and with a milder flavour than onions, shallots are often thought of as a fancier variety. But even the cream of the crop can be at risk of going to waste, and we're about to rescue over seven tonnes' worth from Abrey Farms in Norfolk. We caught up with Tom Abrey to peel back the layers of the rescue story.
O: Hi Tom. Can you tell us about your farm? Where are you and what do you grow?
T: Abrey Farms is in 'The Brecks' in Norfolk – often described as onion utopia. With the perfect climate and growing conditions for growing bulbs, our family has been producing red and white onions, as well as shallots, since 1939. We also grow rhubarb and potatoes, all of which Oddbox has rescued at one stage or another over the last five-six years.
O: So what's going on with the shallots this season?
T: As with any vegetable, retailers have very strict rules around the size and shape of what's acceptable. This season, our Matador round shallots are over 45mm, so have been rejected for being "too big".
O: But surely more shallot is a good thing, right?
T: Yes, you'd think. These shallots have exactly the same taste and cook in the same way – they're just slightly bigger than retailers want, which means we need to try and find them another home.
O: So what would happen to them without Oddbox?
T:  Any waste is composted and used as fertiliser on the farm – definitely not a good use of a premium crop that was grown to be eaten.
O: Thanks shallot, Tom. We're chuffed to be able to help and know that our community will put every bulb to good use.
So there you have it. Keep your eyes peeled for Tom's shallots in your boxes. And once you've checked out our recipes for inspiration, don't forget to tag us with #OddIsGood so we can see those alliums in action.