8 delicious recipe ideas for sweet potatoes
Tips & recipe ideas courtesy of our guest ODDBOX chef Camille, @callherchef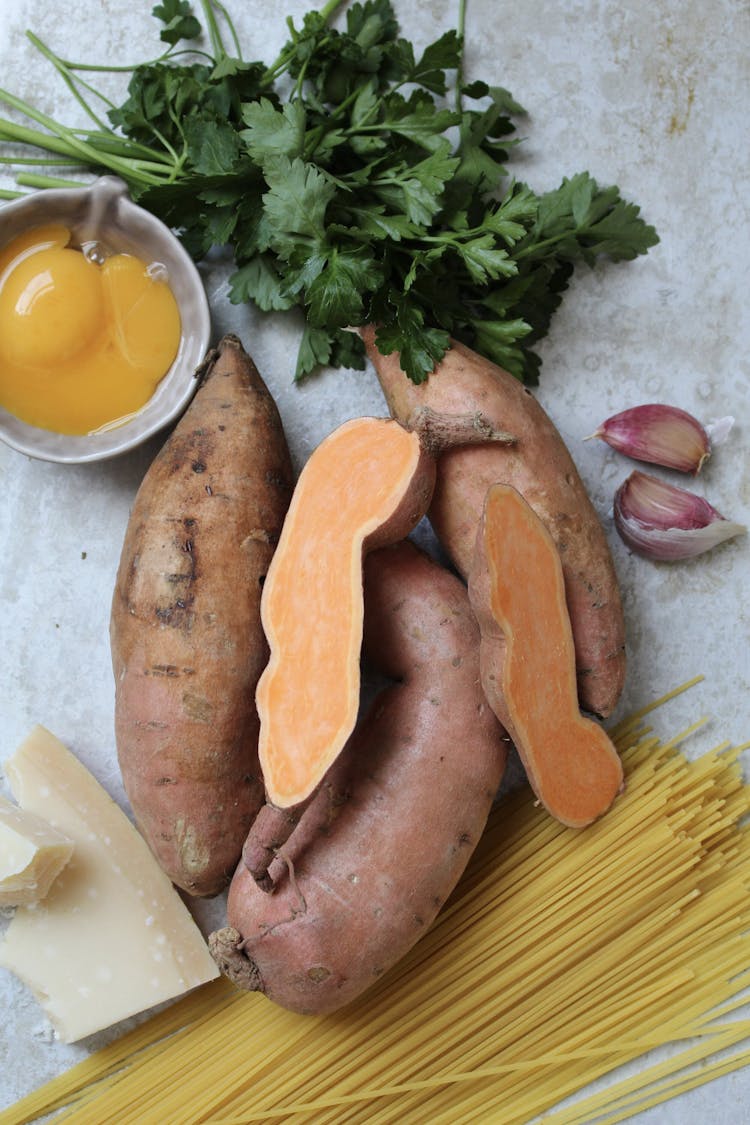 DID YOU KNOW:
Sweet potato is a tuberous and starchy root vegetable. They can be used instead of potatoes in most recipes - but they are sweeter and creamier in texture than potatoes. They are considered a superfood, they are very healthy, high in vitamins A & C and full of antioxidants.
HOW TO STORE:
Sweet potatoes are best kept in a cool, dark, dry place for about a week. Avoid placing them in the fridge as the cold affects the flavour. 
HOW TO PREP:
Scrub the sweet potatoes before use if leaving the skin on. The skin is edible so depending on the recipe no need to discard it. If not cooking immediately after peeling or cutting, immerse in cold water to prevent discolouration.
8 AMAZING RECIPE IDEAS FOR LEFTOVER SWEET POTATOES
SWEET POTATO SOUP 
Cube the sweet potatoes. In a saucepan, warm up olive oil, and add onion, ginger, garlic and chili flakes. Cook a few minutes until softened, then add the sweet potatoes and stock. Turn up the heat and bring the pan to the boil. Reduce the heat to low and simmer with the lid on for 15 minutes, or until the sweet potato is tender. Blend the soup, until smooth. Season to taste and serve. 
SWEET POTATO CHIPS 
Cut the sweet potatoes into chips or wedges. Add them to a bowl, along with oil, salt, pepper and spices. Toss to coat, spread the chips flat onto a baking tray, using two trays if necessary. Place the tray into the hot oven and cook for 30 minutes, or until crispy and cooked through.
SWEET POTATO MASH 
Cube the sweet potatoes and boil in salted water for 10 minutes, or until tender. Drain very well and leave to steam dry for a couple of minutes. Tip the potatoes back into the pan and mash with butter using a fork or masher, then season well. 
SWEET POTATO GNOCCHI 
Prick the sweet potatoes with a fork and place in a baking dish. Bake at 180C for 60 minutes or microwave for 8 minutes, until tender. Peel off the skin and place the inside flesh into a bowl and mash with a fork - compost the peels. Slowly add in the flour and gently knead with your hands. Cut the dough into 4 parts, cut into small pieces and roll with your hands into gnocchi shapes. Cook in salted boiling water, until they start to float off the bottom. Drain and fry them in a pan with olive oil to make them crispy. 
BAKED SWEET POTATO 
Prick the potatoes all over with a fork, or the tip of a knife. Place them in a medium-hot oven and cook for around 45 minutes. When ready to eat, cut them in half and serve with creme fraiche, parsley, salt, pepper and lemon juice. 
SWEET POTATO FALAFELS 
Bake or microwave the sweet potatoes until tender. Add the flesh to a bowl, along with cumin, garlic, fresh coriander, and lemon juice. Season, then mash until smooth. Shape the mixture into balls and bake at 180C, for 15 minutes until the bases are golden brown, then flip over and bake for 15 minutes more until golden all over. 
SWEET POTATO CARBONARA 
Peel and dice the sweet potatoes. Compost the peels. Pan fry the sweet potato cubes for 7-8 minutes, then add garlic and stock and reduce for 15 minutes. Blend to a smooth puree half of the sweet potato, then put it back into the pan, along with al dente spaghetti, egg yolks and parmesan. Season to taste and toss well to coat. 
SWEET POTATO CURRY 
Peel and cube the sweet potatoes. Compost the peels. In a saucepan, add coconut oil and cook onions and diced tomatoes. Season and cook for 10 minutes, until the juices of the tomatoes are naturally released and onions are soft. Add in chickpeas and sweet potatoes, stirring to combine. Add in garlic, garam masala, curry powder, paprika and cumin. Stir for about 30 seconds in the heat, until the spices become fragrant, then add coconut milk. Simmer for 20-30 minutes until the sweet potatoes are cooked through. Add a squeeze of lime and serve.