8 creative ways to enjoy mangoes
Have a surplus of mangoes? Never sure how to best prepare these tropical fruits?
Scroll down for all our best tips & recipe ideas - courtesy of our guest chef Camille @callherchef.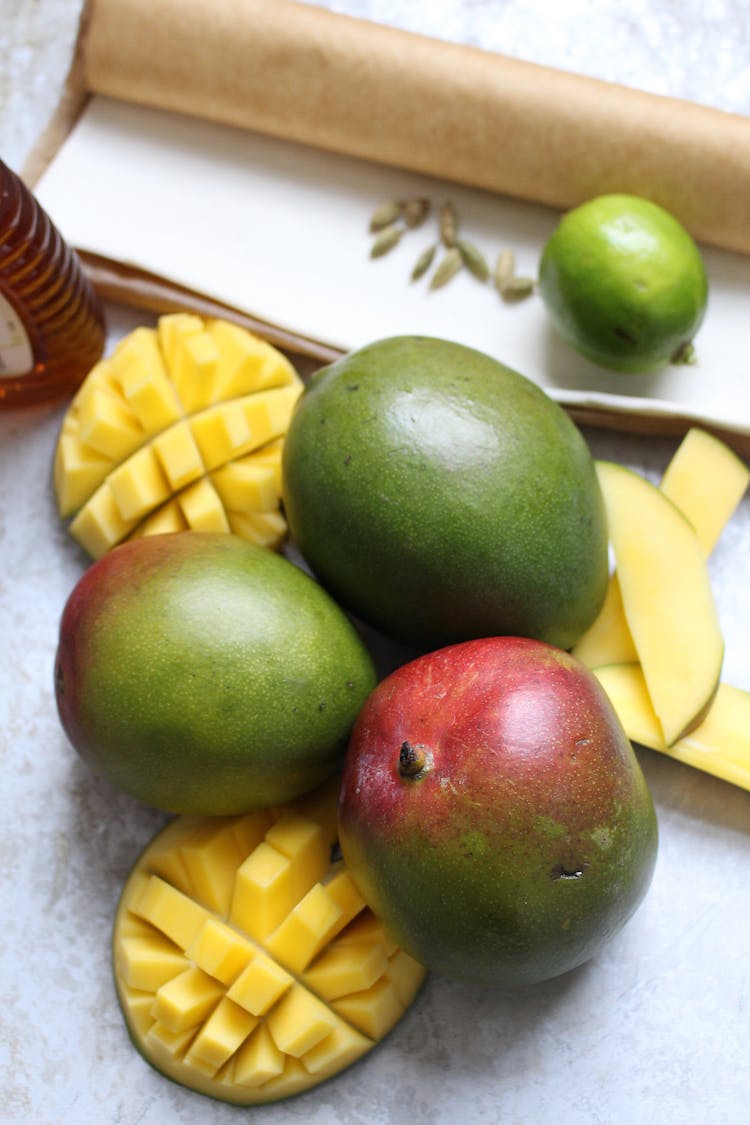 DID YOU KNOW?
Mango is a stone fruit with fruity, sweet and creamy flavours. It is a low-calorie fruit that is high in fibre, and is a great source of vitamins A and C.
It takes 30-35 years for a mango tree to produce good quality fruit and after this it will continue to fruit for 300 years. Another reason why we shouldn't waste them!
HOW TO STORE…
Keep unripe mangoes at room temperature. They will turn soft and sweet in a few days. If you want to speed up the process you can place your mangoes in a paper bag, still at room temperature. Keep ripe mangoes in the fridge. They will last up to 5 days.
HOW TO PREP…
A mango has a large oval seed in the centre of the fruit, so you will need to work around it
Method 1:
Slice off the sides (also called "cheeks") and cut the two small sides off the mango to remove the flesh from the seed. There will be four total pieces of fruit.
Hold the mango steady on the cutting board and score the flesh by making long slits lengthwise to create multiple parallel lines of desired thickness. Then turn the mango 90 degrees and cut similar sized lines perpendicular to the other tracks to form a crosshatch pattern. Score the two smaller pieces similarly for slices or cubes.
Now scoop the flesh with a spoon or use a knife to cut off all the diced mango.
Method 2:
Stand the mango on a chopping board with the stem end facing upwards.
Use a sharp knife to cut the 'cheeks" all the way through the flesh, on each side of the seed, about 1 cm away from the centre of the fruit.
Trim the sides of the centre section on the diagonal, following the lines of the seed, to remove as much flesh as possible.
Insert the knife into the flesh just above the skin, holding the flat of the knife down parallel to the chopping board. Gently follow the skin shape to remove it.
8 RECIPE IDEAS FOR MANGOES
Mango lends itself well to both sweet and savoury dishes. Great pairings to mango are lime, apple, cardamom, cumin, chilli, avocado, ginger, coriander and coconut.
SALSA
Dice the mango and place in a bowl along with chopped pepper, onion, coriander and chili. Drizzle with lime juice and season to taste with salt, and stir. Let the salsa rest for 10 minutes or longer. Serve with chips, on tacos or salads, or as a salad itself.
CHUTNEY
Chop the mango into small bite-size pieces. Add the mango into a saucepan along with light brown sugar, cinnamon stick, nigella seeds, fresh ginger, distilled malt vinegar and salt. Mix all the ingredients together and boil for 40 to 45 minutes, or until it has thickened and become syrupy. Pour into a sterilized canning jar while hot. Seal the jar, allow to cool completely, then move to a cool place and leave for a week. This will give it time to mature.
CURRY
Peel and slice the mango. In a bowl, combine mango, shallot, chili, ginger, garlic, white vinegar, and salt, and mix well. Set aside for 1 hour. In a saucepan, combine the mango mixture with coconut milk and bring to a boil. Reduce heat and simmer for 5 minutes, or until mangoes are softened. Meanwhile, heat oil in a small frying pan, and when hot add mustard seeds and cook for a few seconds, until they stop popping. Add curry leaves, and cook for 15 seconds. Add the spice mixture to the saucepan with the mango mixture, and stir to combine. Serve with rice.
DRESSING
Peel and chop the mango. Place in a food processor along with lime juice, champagne vinegar, chili and salt. Blend on high. After the ingredients are blended, slowly add vegetable oil and continue to blend until the mixture is thickened and emulsified.
JAM
Prepare and dice the mangoes. Place in a saucepan, along with cardamom pods, sweetener of choice and water. Cover with a lid to keep the moisture inside and cook. over low/medium heat for 3-40 minutes, or until tender and mushy. Use a hand blender to get a smoother texture and add lime juice. Use the mango jam in baking recipes, on toast or with yoghurt.
SORBET
Start by making a syrup. Add water and sugar to a saucepan and bring to the boil, stirring occasionally. Set aside to cool and make the mango purée. Prepare and dice the mangoes. Place the mangoes in a food processor and blend until smooth. Add a splash of the sugar syrup to help it blend smoothly. Place the puréed mango in a large bowl along with lime juice. Whisk in the rest of the sugar syrup and transfer to a box/container. Place in the freezer, stirring every hour to break up the ice crystals.
The sorbet is ready in about 3 hours.
SALAD
Raw mango makes a great addition to both sweet and savoury salad. Cut the mangoes into matchsticks and toss together with carrot, tomatoes or vegetable/fruit of your choice. In a small bowl, mix together honey, lime juice and olive oil. Pour over the mango and toss to coat.