7 kimchi recipes to experiment with
A staple side dish or ingredient in its native Korea, kimchi combines salt, spices and other flavourings with cabbage and vinegar. It can be more spicy, sour or pungent, depending on the ingredients used and how many weeks it has been fermenting for. 
If you have leftover cabbage to use up, here's a variety of tasty low waste kimchi recipes to try out.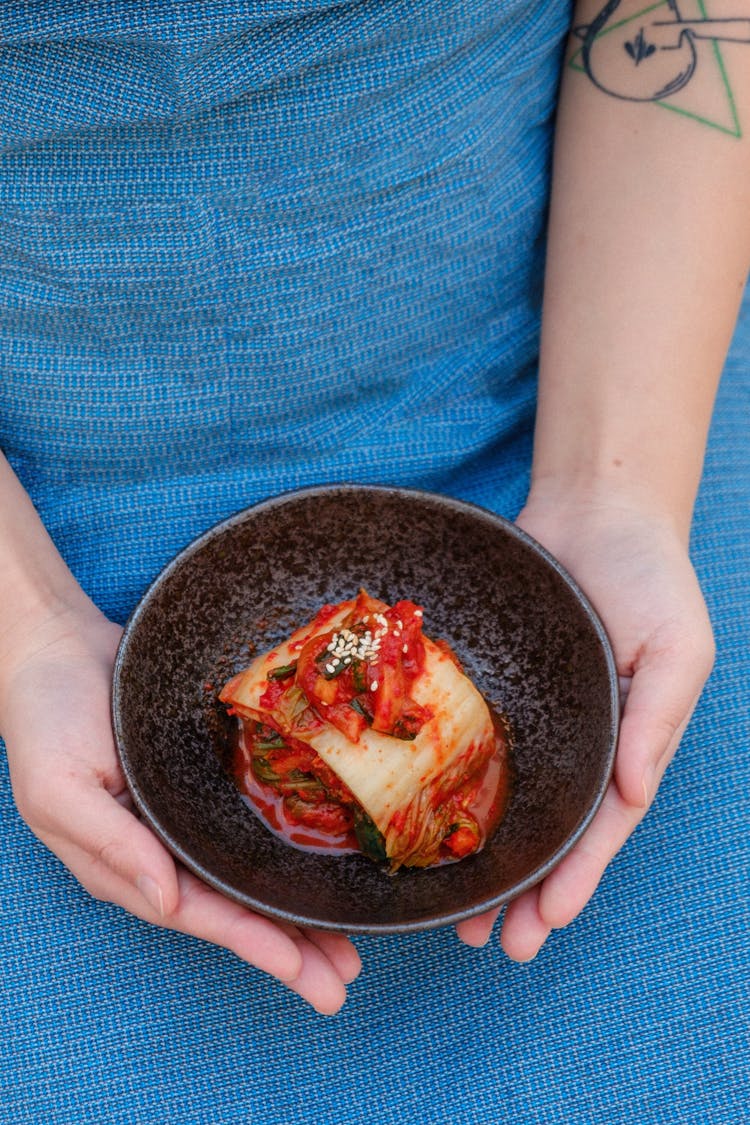 BASIC KIMCHI RECIPE
You'll need to make kimchi before you can try out any of the kimchi recipes below. Live Eat Learn has a simple recipe with standard kimchi flavours. You can use any cabbage for your kimchi and add other vegetables you have in the fridge, like radishes and carrots. If you buy pre-made kimchi, keep in mind that a lot of shop-bought kimchi contains fish sauce. 
SPICY KIMCHI SLAW
Mix 130g of kimchi and 130g of thinly sliced red or green cabbage, along with a 30g of mayonnaise and 1 tsp of rice wine vinegar. 
(via The Curious Chickpea)
TOFU & MUSHROOM KIMCHI FRIES
Cook fries as directed. This recipe asks for frozen French fries, but if you'd like to make sweet potato fries at home instead, BBC Good Food has an easy and neutral recipe. Mix together mayo, chipotle paste, agave nectar (or another natural sweetener), lime juice and salt. Chop kimchi small and slice shiitake mushrooms and tofu (tofu puffs are preferred, but any will do!). Cook the shiitake on a medium heat until golden. Add the kimchi and tofu to cook for another minute. Tip the cooked fries into a large bowl and top with the kimchi, tofu and mushrooms. Drizzle with your chipotle dressing and sprinkle with spring onion. 
(via Flip Food)
VEGAN KIMCHI TOASTIE
Melt non-dairy margarine in a frying pan and drop in two slices of sourdough bread to cook for 2 mins. Add two slices of vegan cheese to each piece of sourdough. Once the cheese is melting, spoon kimchi onto one slice of bread and cover it with the other slice. Keep cooking for another 2 mins to allow the kimchi to warm through. Remove from heat and cut the sandwich in half. 
GARLIC AND SESAME KIMCHI
Once your kimchi is 5 or 6 weeks old, it will become sourer and more pungent. To freshen it up, quickly pan fry on medium heat with sesame oil, garlic, spring onion, brown sugar and sesame seeds. If you want to keep the full sourness of the kimchi, omit the sugar. Serve hot or cold. 
(via My Korean Kitchen)
KIMCHI FRIED RICE
Cook rice beforehand and let it cool overnight. Mix sesame oil, chilli paste, soy sauce, maple syrup and rice vinegar to make a stir-fry sauce. Warm sesame oil in a wok on medium heat, then fry garlic for 30 seconds. Add any mushrooms to fry for a few more minutes. Add kimchi, broccoli, carrots and green beans to fry for 5 mins. Stir in the cooked rice, then mix in the sauce. Once the mixture is hot, serve and add sesame seeds, spring onions or another garnish. 
(via Vegan Punks)
KIMCHI PANCAKES
Pancakes are another great way to make use of ageing kimchi. Mix flour, baking powder, baking soda and plant milk together in a bowl. Stir in finely chopped kimchi, spring onions, coriander, sesame oil and soy sauce. If the mixture is too thick to slowly slide off your spoon, add some of the liquid from your kimchi. Warm a frying pan on medium heat and brush the pan with some oil. Ladle 1 tbsp of pancake mix for each pancake. Cook for 2 or 3 mins and then flip over, cooking for another 2 mins. To create a dipping sauce, mix together soy sauce, rice vinegar, sesame oil and maple syrup. 
(via Lazy Cat Kitchen)
SPICY COLD KIMCHI NOODLES
Cook noodles (fine wheat are best but any will do) in boiling water until they're al dente. Cool them down under cold water and drain well. Make a bibim sauce by mixing 2 tbsp of red chilli paste with 1 tbsp each of rice vinegar, honey, sugar, sesame oil and roasted sesame seeds. Mix the sauce with older kimchi and the noodles in a bowl. Top with a hard-boiled egg and shredded cucumber. 
(via My Korean Kitchen)
OTHER LOW WASTE KIMCHI NOTES
There's no need to waste any spare kimchi juice - make a vinaigrette with this recipe from CKBK. 
And feel free to sub out the cabbage in your starting kimchi recipe for another vegetable you need to use up, or mix and match veggies. Popular alternatives for the cabbage in kimchi are cucumber and beetroot.