7 creative ways to enjoy carrots
Need some inspiration for your orange delights this week?
Not to worry - here's seven deliciously creative ways to enjoy your carrots (including their leafy fronds!) with our amazing guest chef Storm (@whatstormeats):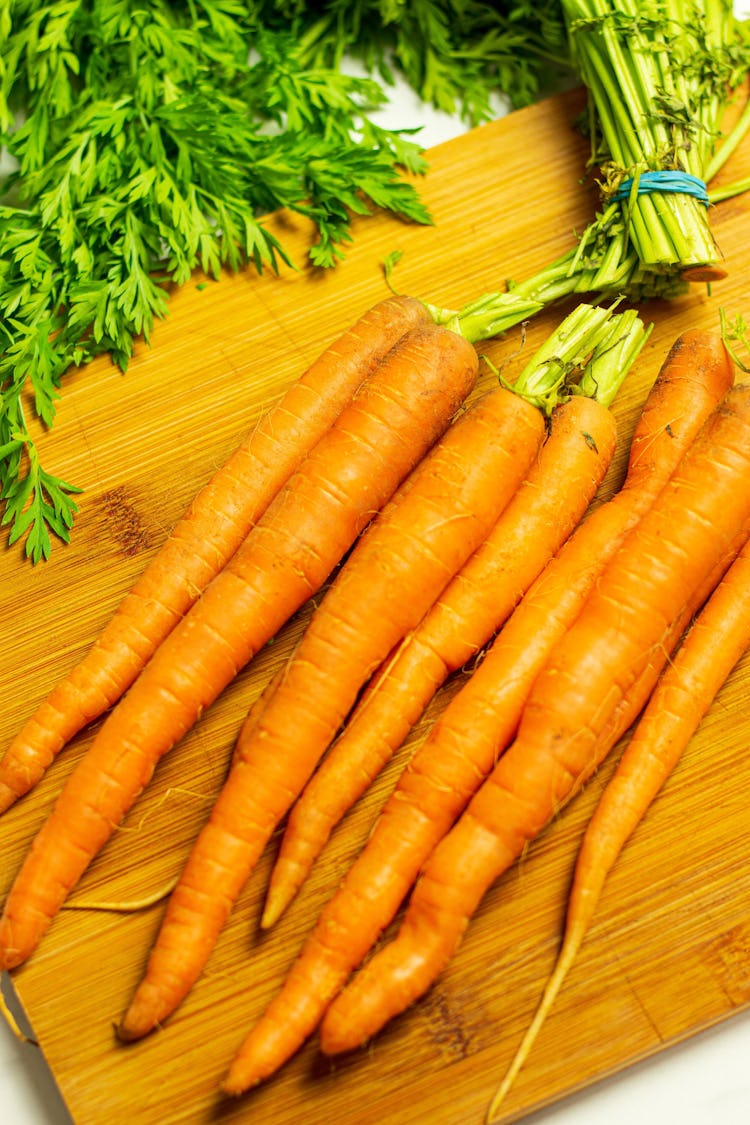 HOW TO STORE…
Carrots can be kept in the fridge for up to a month if stored properly. If they have arrived with those gorgeous tops (do not throw these away!) remove them as they suck up moisture from the carrots. Once trimmed, pop them in an airtight container and fill with water. You may need to swap out for fresh water but carrots will last for weeks like this, whilst keeping them fresh and crunchy!
If you are storing the carrot tops, give them a wash and dry thoroughly. Wrap them loosely in a damp paper towel and pop into a reusable zip lock bag into the fridge.
HOW TO PREP…
If you have kept them in water as above, simply drain and pat dry. If not, remove the tops and rinse under cool water. You don't really have to peel carrots if you don't want to, they do contain some wonderful nutrients but if you aren't keen, just peel them lengthways.
7 RECIPE IDEAS TO TRY TODAY
Carrots are delicious and nutritious both raw and cooked. Here are some serving ideas for the wonderful carrot!
1) PROTEIN BALLS
Combine shredded carrot with nut butter, walnuts, cinnamon, vanilla, dates, and a scoop of protein powder, shredded coconut and a splash of milk. Form into balls and roll them in a little more coconut then refrigerate before storing in an airtight container.
2) FRIES 
Love chips? These are great alternative to potatoes. Slice into "fries" and toss with a little cornflour, grated parmesan and season with salt and pepper. Toss with vegetable oil and pop on a tray lined with baking paper. Serve these with a spicy mayonnaise or a drizzle of truffle oil for a little luxury!
3) CARROT TOPS
Don't throw away those tops – they are delicious and packed full of flavour. They are like a combination between parsley and chard. Treat them like herbs or greens; make a pesto or chimichurri, or add into salads. They are also great to add into your morning smoothie!
4) JAM
Perfect addition to a cheese board or on top of a freshly baked scone with clotted cream! Combine grated carrots with sugar and lemon and simmer slowly on a gentle heat. At this point you can add spices, chilli, or even another fruit like mango. Once softened and thick, you can either liquidize to make smooth or leave chunky.  
5) MUFFINS
Whether these are sweet or savoury, they are really delicious. For those with a sweeter tooth, combine grated carrots with spices, orange zest, flour, bicarbonate of soda, sugar and sunflower oil. Bake and top with a delicious orange and cream cheese icing. For something a little more savoury, combine grated carrot, grated cheese, and fresh herbs, with an egg, milk, butter and self-raising flour. Bake in muffin tins with a sprinkling of cheese on top. These are great fresh out of the oven or perfect for packed lunches that all the family will love. They also freeze really well.
6) BURGERS
Combine grated carrot, chickpeas, fresh chilli, cumin and garlic in a food processor with an egg. Whizz until it forms a thick paste; season well and add in breadcrumbs. Form patties and chill before frying off in a non-stick pan or popping on the BBQ for a tasty veggie burger.
7) SALADS
Try roasting carrots whole in harissa paste, and serving on nutty lentils, a few of those carrot tops and drizzling with tahini and yoghurt. Or why not grate some carrots and toss with cumin, lemon juice, olive oil and fresh coriander and mint – this is a great side dish to a fiery curry.