7 apps that are helping reduce food waste
Looking to help reduce your food waste? Here we've found 7 inspiring and practical apps that can help you save the planet and stop food waste.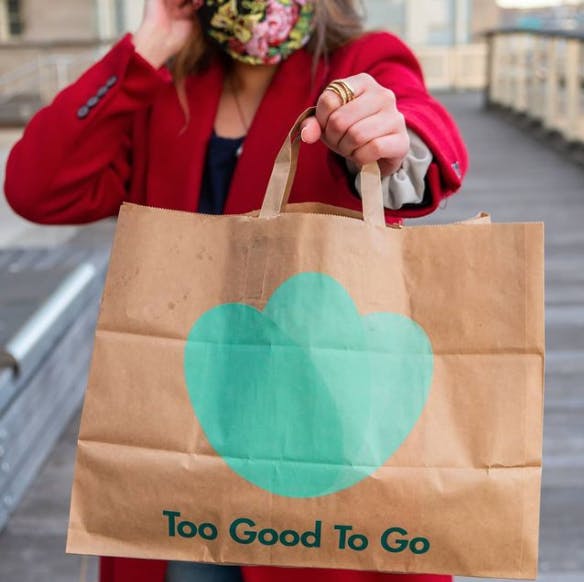 On the Too Good To Go app, restaurants, cafes and bakeries list leftover food that would otherwise be thrown away. Users can then browse the map for food near them and pick up a 'magic bag' for a fraction of the original retail cost. Registration to the app is free and users can specify their dietary requirements. Too Good To Go also teams up with businesses in the food industry to help them look at their individual food waste problems.
Too Good To Go is a certified B Corp who, like Oddbox, believes cutting food waste is one of the most important things we can do to reverse climate change. But their global mission reaches much further than their app. Too Good To Go is pushing for legislation to clear up confusion around food labelling that leads to food waste. They also run a campaign that teaches how to "Look, Smell, Taste" food before tossing it out. Too Good To Go has worked with over 500 schools and universities through events, lectures and research to improve everyone's education around food waste. Their website is packed with handy and well-researched resources for all age groups.
Olio provides a platform for neighbours to share unwanted food and other items, all for free. People are free to share or pick up anything from an unwanted gift, produce that's on its date from a local store, leftover event catering supplies or excess food that won't get eaten before a holiday. Olio also partners with catering, hospitality and retail businesses to pick up surplus food 24/7 and send it out into the local community. 
Olio is keen to highlight how easy it is to dismiss food waste as a problem caused by supermarkets and farming. But when more than 50% of food waste happens in our homes, and institutional change is very slow, there's a great opportunity for us to spark change with our daily actions. Olio offers plenty of different volunteering opportunities that are simple and easy to sign up for, like spreading the word about Olio or picking up surplus food from a local business. They have a heap of resources for partnered businesses and schools to use so they can teach others about the problem of food waste. 
The Karma app enables users to rescue fresh food from restaurants, bakeries, cafes and even wholesalers that would have otherwise been thrown away. It's similar to Too Good To Go, especially as food is offered at a handsome discounted price. The difference is that rather than getting a surprise selection, users can see exactly which meals are available to buy at each eaterie. Karma wants to create the "least ambitious climate movement the world has ever seen" – because eating is one of the easiest things we can do! 
Karma stresses that food transport and packaging are responsible for a tiny amount of emissions in the food industry. The production of the food itself uses far more resources, which is why making sure we don't waste food once it has been grown is the most important action we can take. So far, Karma has rescued over 4 million meals and saved 1,800 tonnes of CO2. They have 1.4 million app users in 225 cities worldwide. 
FoodCloud connects supermarkets with charities and community groups, such as homeless shelters and family support services, across the UK and Ireland. All kinds of food businesses can use FoodCloud's technology to donate their surplus food. Supermarkets simply upload a description of the unsold food they have to an app and a local, linked charity gets a notification that food can be collected. Farms, manufacturers and distributors donate food and the FoodCloud team distribute it the next day. 
 FoodCloud's vision is to see a world where no good food goes to waste, and they're helping us get there by redistributing surplus food and promoting kindness. Their actions have two crucial outcomes – they both prevent food waste and feed those who need the food the most. By 2017, they'd already enabled 2,528 tonnes of food to be donated to over 1,100 charities in the UK and Ireland. 
For those of us who want to prevent food waste in our own homes, an app like NoWaste may be just what we need. NoWaste users can scan receipts and barcodes, log each weekly shop, make lists of what's in, plan meals more effectively and receive automatic expiration reminders. Beyond their main aim of reducing food waste, 5-star reviewers rave that NoWaste has saved them time, money and mental energy when managing the food in their home. 
 NoWaste is a team of one – Kasper Hjortsballe – whose vision is to simply have the "no. 1 app to reduce food waste and food loss by consumers". He believes he has made it easier than ever to know the contents of your freezer, fridge and pantry. The app's software is continuously optimised so its features should keep on improving. 
nosh is an AI-based app offering another option to track the food you have in your home. With nosh, users can view categorised expiry and use by dates all on one screen, so they can easily prioritise which foods to use up first. nosh shares this functionality but emphasises that best before dates aren't intended to say the food is no longer safe to eat. Users have access to recipe suggestions, clear visibility of the foods they already have and a weekly shopping list formulated based on their buying and wasting habits. 
nosh has recognised many of us are now buying more food and stocking up to avoid going out so often. But they feel strongly this shouldn't be at the expense of our valuable resources. nosh estimates the app has helped save 103,400 food items and 41.94 tonnes of CO2 emissions so far. 
Kitche is ideal for those among us who either run out of ideas to make use of our leftovers or aren't entirely clued up on what we're wasting. The free app has thousands of recipe suggestions that users can filter by the ingredients in their kitchen that need to be used up. It has similar features as NoWaste and nosh, like supermarket receipt scanning and food expiration prompts. Users swipe to 'toss products', making it easier to confront their own food waste habits and change in the future. 
Kitche has been featured by the BBC and The Guardian. Co-founder Alex Vlassopulos designed the Kitche app based on how he manages his own kitchen – by planning meals based on what needs eating first and minimising food waste. The Kitche team believe most of the £70 worth of good food the average UK family throws out every month can be avoided with diligence and by using their app.
Credits to @toogoodtogo.uk and @patchwork.it for use of their imagery.