6 delicious ways to enjoy fennel
There are endless delicious ways to enjoy the subtle aniseed flavour of fennel - here's six of our favourite recipe ideas with our amazing guest chef Georgia (@georgia_levy_):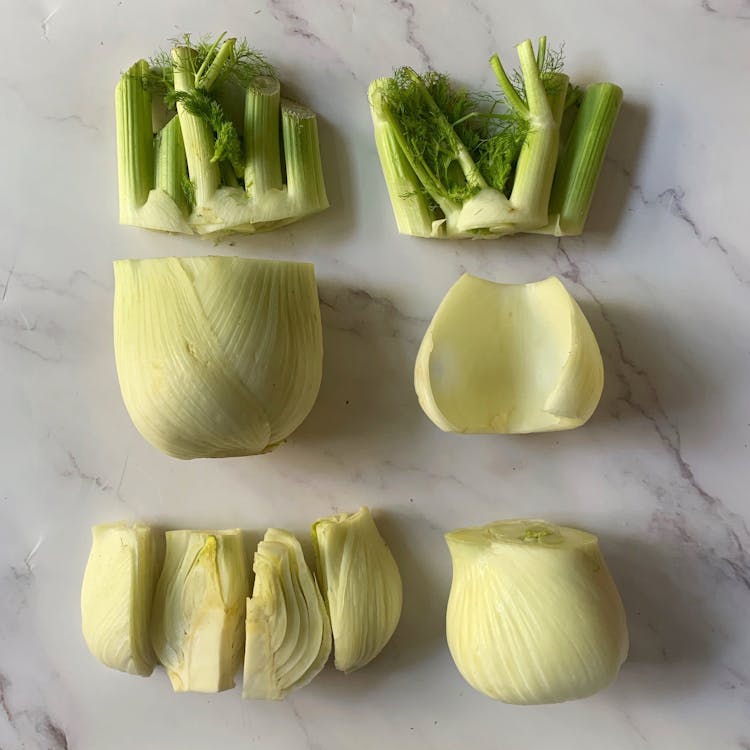 HOW TO STORE…
Fennel likes to be kept chilled in the fridge and can last up to 10 days. A perfect fennel specimen will be nice and plump, have tight layers, a bright white, unblemished surface and dark green poofy fronds.
HOW TO PREP…
Cut away the top green stalks and fronds, and pull off the tough outer layer. Use the green stalks and outer layer in your stock or finely chop and incorporate in your soffritto for soups, stews or even bolognese. Use the fronds as use would other fresh herbs. The white inner bulb is ready to use. Cut it in half lengthways to make it easier to chop and slice.
6 RECIPE IDEAS TO TRY TODAY
1) GRILL
Cut into ½ cm slices and grill for a couple of minutes on each side in a griddle pan until char marks appear. Eat with chopped olives, capers, parsley and olive oil.
2) SLOW COOK
Brown big wedges in a pan with olive oil and whole garlic cloves, then half cover with water, place a lid on top and simmer for 20-25 minutes until soft. Zest over some lemon before serving with chops or sausages.
3) ROAST
Place wedges in a dish with apple, garlic, fennel seeds and oil and roast at 180C for 45 minutes until golden and tender.
4) RISOTTO
Finely chop with some onion and celery, stir in some sausage meat and fennel seeds, then arborio rice and stir in fennel-y vegetable stock. Finish with Parmesan and chopped fennel fronds.
5) SALAD
Finely slice and combine with orange slices, parsley and black olives. Dress with cider vinegar dressing.
6) BAKED
Toss thick slices in a mix of Parmesan, oil and lemon zest, lay out on a baking tray and cover with foil. Roast for 25 minutes at 180C, then remove foil and roast for another 20 minutes until golden and delicious.