6 creative ways to enjoy brussel sprouts
To celebrate the first appearance of brussels sprouts in this year's boxes, here's 5 delicious ways to cook & enjoy them - guaranteed to convert any sprout-haters in your life! Courtesy of our ODDBOX guest chef Storm (@whatstormeats):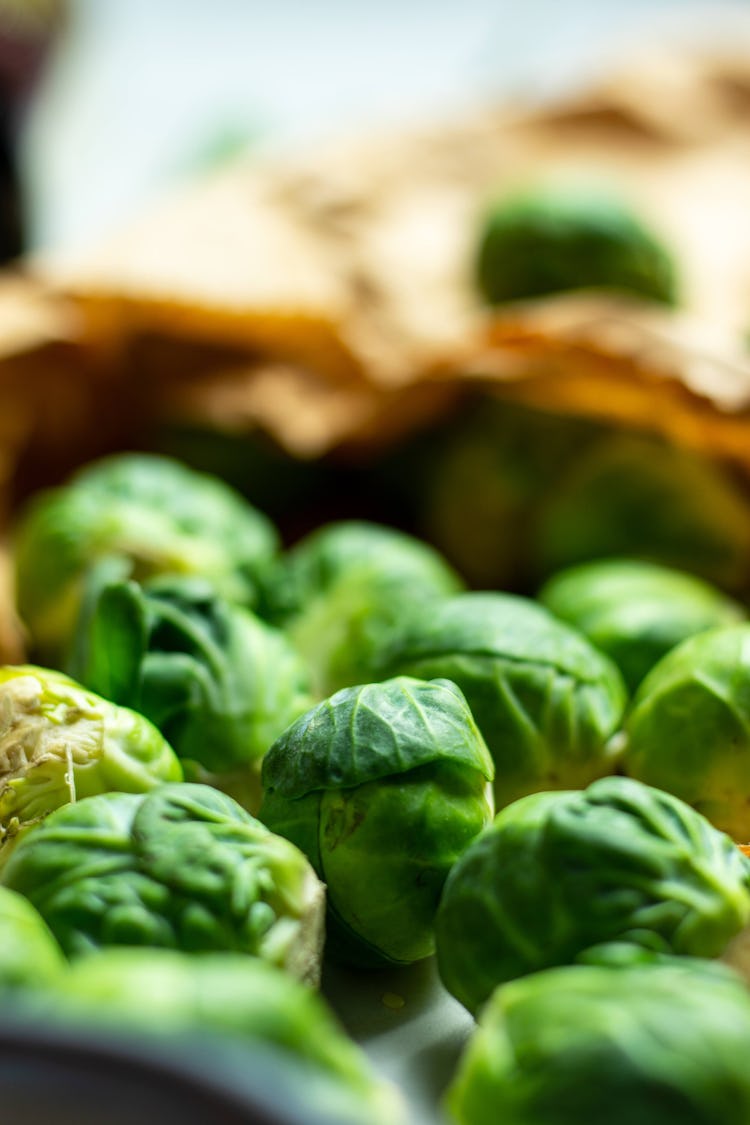 HOW TO STORE…
Keep them unwashed and untrimmed in a container or bag in the drawer of your fridge. You may need to trim or remove any yellowing or damaged leaves.
HOW TO PREP…
Give them a wash before use to remove any dirt. Depending on your recipe, you may need to slice or halve the sprouts, or if you are steaming/boiling them, you can cross the base of larger ones to ensure even cooking. Or why not keep the raw?
6 DELICIOUS WAYS TO ENJOY YOUR SPROUTS TODAY!
OKONOMIYAKI: 
This Japanese savoury pancake is the perfect recipe for those delicious sprouts. Shred the sprouts and add to a batter made from plain flour, baking powder, sugar, salt, eggs and dashi. In a large, well-oiled hot pan, spread the batter in a circle and cook until crispy and golden. Serve with okonomoyaki sauce, mayonnaise and sliced spring onions. 
TART TATIN:
Start by cooking the sprouts in seasoned boiling water for 3 minutes, drain and slice each on it half. Cut out a circle of premade puff pastry and set aside in the fridge to chill. In an ovenproof pan or skillet, melt butter and add sliced red onions and cook until soft and caramelised. Now add some sugar to create a caramel and place the halved sprouts round side down into the pan and season to taste. Pop over the puff pastry lid and bake until golden. Turn out onto a plate and finish with a crumbly blue cheese.
CRUMBLE:
Cook the sprouts in water for a couple of minutes until just cooked and drain. In a pan, fry off onions, garlic, almonds in a little butter, and then add the sprouts. Add double cream, salt and pepper and reduce until you have a rich thick sauce. Spoon the mixture into an ovenproof dish, top with a mixture of breadcrumbs, flaked almonds and Parmesan. Bake until golden and bubbling. 
SLAW:
Shred sprouts, onion, and carrot into a large bowl and mix until evenly distributed. In a separate bowl, add mayonnaise, crème fraiche, olive oil, seasoning, wholegrain mustard and a squeeze of honey. Mix the dressing through the veggies, and top with pumpkin seeds. 
CROSTINI:
The perfect dinner party snack! Char halved sprouts on a super-hot griddle, and once cooked, pop in a bowl with good quality olive oil, torn fresh basil and a splash of balsamic vinegar.  Toast slices of bread, and top with a creamy cheese (mozzarella, cream cheese and burrata all work really well). Place the warm sprouts onto the toasts and sprinkle with a few chilli flakes for a bit of a kick!
KEBAB:
Sprouts are great alternatives to meat so are perfect stuffed in warm flat breads with homemade hummus, baba ganoush and pickles. Sprinkle over shawarma spices onto the whole sprouts, drizzle with oil and stick onto skewers. Grill on a high heat on a bbq, or griddle pan until cooked; the outside will be crispy and perfect for wrapping up with your favourite Middle Eastern dips.