5 delicious ways to eat grapefruit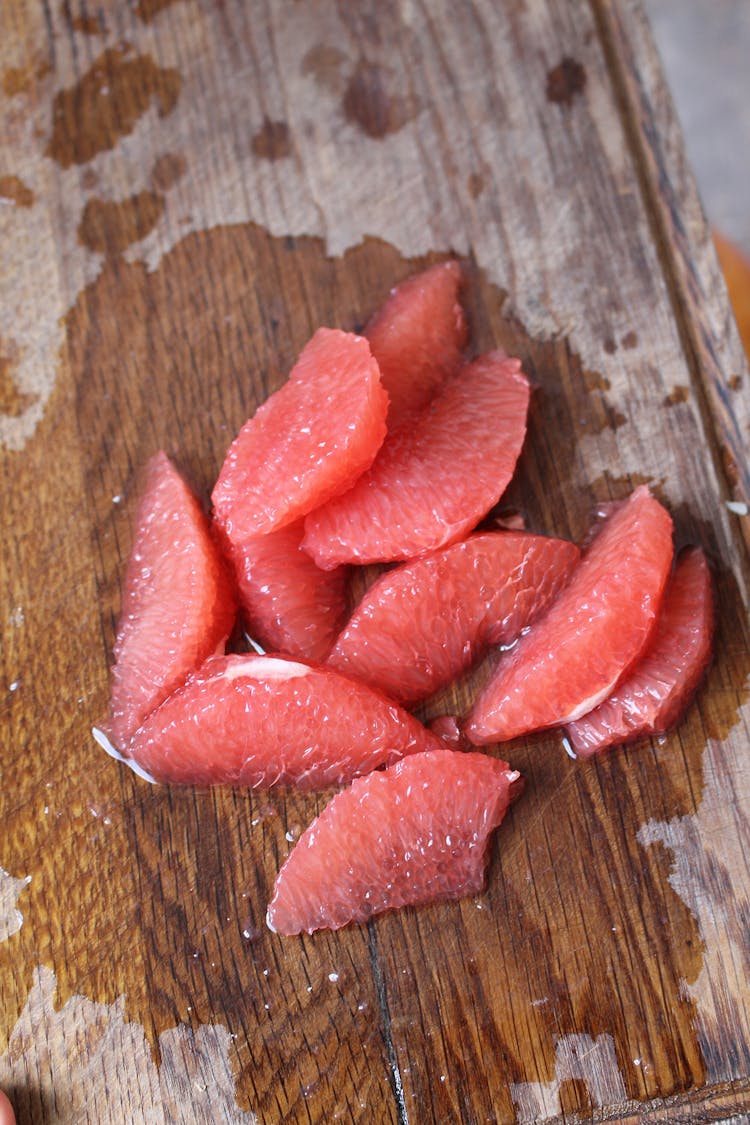 DID YOU KNOW?
Grapefruit is a citrus fruit, very rich in nutrients and an excellent source of vitamin A and C. Grapefruits are great in both sweet and savoury recipes. 
STORE THEM BY: 
Keep your whole grapefruit in the fridge for up to 5-7 days. You can also peel and cut your grapefruits, and store them in an airtight container in the fridge for 3-4 days.
PREPARE THEM BY: 
You can zest, peel, juice or segment your grapefruits. To segment, and use the whole fruit pieces follow these steps:
- Slice a little of the top and bottom of the grapefruit to give two flat edges. 
- Stand the grapefruit on your chopping board and use a knife to slice from top to bottom following the curve of the fruit. 
- Cut away all the membrane and skin, then slice between one of the segments and the connective membrane. Cut until you reach the middle of the fruit, then repeat on the other side of the segment and lift out from the centre until released. Repeat to remove all the segments. 
Compost the white membrane which is very bitter but keep the grapefruit peels for recipes. 
2 ideas to preserve the skins:
Make dried grapefruit peels: Scrub the grapefruit clean and peel the outer skin with a knife or peeler. Try to avoid the white part. Hang the peels and air dry for a couple of days, or until hardened and curled. Store in an airtight container. Use your peels in custard, in marinades, to flavoured sugar, or to flavour salt. 
Make candied grapefruit peels: Scrub the grapefruit clean and peel the outer skin with a knife or peeler. Try to avoid the white part. Slice the peels into strips, boil for 10 minutes, darin and let them dry for 15 minutes. Add the peels to a syrup made from 50/50 water and sugar, cook for 10 minutes, then let them dry and toss in sugar to coat. 
5 DELICIOUS RECIPE IDEAS: 
YOGHURT CAKE: Grapefruit cake is great as both breakfast and dessert. Zest, peel and segment 2 grapefruits, saving the juice in a bowl too. Make a batter from 1 yoghurt, 2 yoghurt pots of plain flour, 1 tsp baking powder, 1 yoghurt pot of sugar, ½ yoghurt pot of vegetable oil (or coconut oil), a pinch of salt and the grapefruit zest and juice. Pour the batter in a greased cake tin and place the segments on top. Bake at 180C/160 fan/4 gas mark, for 45 minutes. 
SALAD: Peel and cut the fruit in segments. Add the segments to any green salad. Good grapefruit pairings are red onion, lettuce, blue cheese, olive oil, ricotta cheese and avocado.
COMPOTE: Zest the grapefruits and set aside. Place the peeled grapefruits in a saucepan with honey/maple syrup and thyme sprig. Cover and simmer until a jam-like consistency. Serve with yoghurt and the zest. 
PANCAKES: Peel and cut a grapefruit in small cubes. Make a pancake batter from 150 g self raising flour, 1 tsp chia seeds, 1 tsp baking powder, 190 ml plant based milk, 20 g porridge oats, 15 ml olive oil and 1 tbsp honey/maple syrup. Mix in the cubed grapefruits. Heat up 1 tsp of coconut oil in a frying pan. Spoon over the pancake batter and cook for 3 minutes on each side. Repeat until all your pancakes are cooked. 
CURD: Zest and juice the grapefruit. In a glass bowl over simmering water, beat egg yolks with sugar until combined, then carefully stir in the grapefruit juice, butter and a pinch of salt. Whisk until the mixture is lovely and thick. Stir in the grapefruit zest and let cool for 10 minutes or so before storing in a clean jar. Keep the grapefruit curd in the fridge for up to 7 days and use it on toast or cake recipes.