4 delicious ways to enjoy broad beans
Wondering how to eat broad beans from your box? These light and versatile beans are a perfect summer ingredient. Roast, sauté, stew or fry them until crispy. Blend or mash them to make fritters or a broad bean dip. Toss raw broad beans through a salad.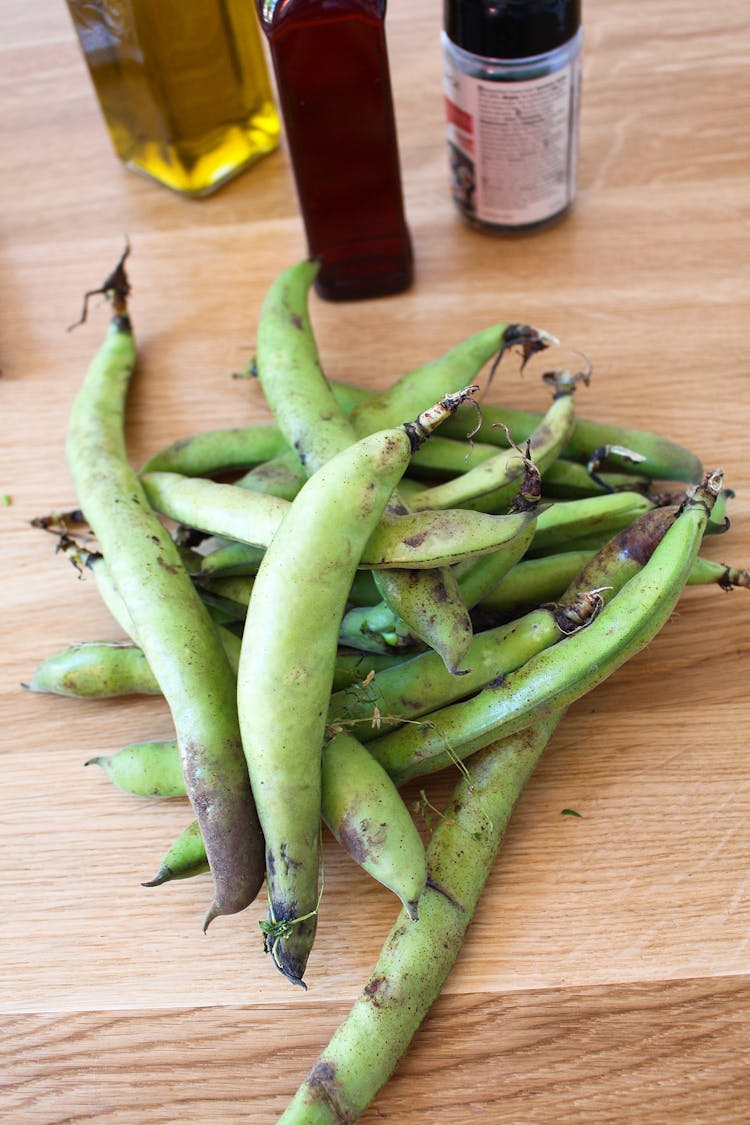 Here's our guide on how to prepare broad beans to get the most from their subtle flavour. 
When are broad beans in season?
Broad beans are in season during summer. They're at their very best from the end of June to mid-September. 
What do broad beans look like?
Broad beans are bright green and quite flat, with a slight kidney shape. They have a fainter-coloured, tough outer skin that can be left on and eaten. Broad beans are larger than most beans. 
A broad bean is the seed of the plant, growing inside big, bumpy green pods from a flowering plant – like peas. 
What do broad beans taste like?
Fresh broad beans have a mild, creamy and nutty taste. Sometimes they're slightly sweet and other times they carry a little bitterness. Dried broad beans taste similar to dried chickpeas. 
The earthy flavour of broad beans is complemented by: 
Basil
Parsley
Garlic
Leek
Coriander
Cumin
Lemon
Mushroom
Spinach
Mint
Fennel
Are broad beans and fava beans the same?
Yes, "fava bean" is the common name in US English for fresh broad beans. Dried broad beans are sometimes known as field beans, horse beans or tic beans. 
Broad bean recipes
Broad beans are an adaptable pulse that can be used in a wide spectrum of different dishes. Use broad beans up within a couple of days if you're enjoying them fresh. Otherwise, freeze, dry or pickle them for later. 
Here are four of the best ways to use broad beans in your cooking. 
Moroccan-style broad bean salad
Boil a pot of unsalted water and add 4 large handfuls of broad beans. Boil them for a couple of mins. Drain and lay them flat on a tray to cool just a little – this salad tastes best if eaten when the beans are still warm. Place in a bowl and drizzle the juice of 1 lemon plus three times as much olive oil. Season with salt and black pepper to taste. Finely slice and tip in a handful of fresh mint. Let the beans marinate. 
Finely chop 1 small red onion (or any onion you have). On medium heat, in a shallow pan, fry the onion, 1 tsp cumin seeds and 1 pinch of chilli in olive oil. Stir and cook until the onion becomes translucent. Add 1 handful breadcrumbs and mix well. Cook until the crumbs are crispy and golden, then season to taste. 
To serve, divide 285ml soured cream (or plant-based alternative) between four bowls. Toss the broad beans for a final time and divide between the bowls on top of the yoghurt. Top with the warm onion mix and the zest of the lemon you squeezed. 
(via Jamie Oliver)
Broad bean hummus
Bring a pot of unsalted water to boil and cook 350g broad beans for 5 mins. Set aside 100ml of the cooking water and drain the rest. Rinse the beans under cold water. Toast 1 tsp cumin seeds in a pan, then grind with a mortar and pestle. 
Place 2 tbsp cooking water into a blender with 2 cloves finely chopped garlic, ½ tsp smoked paprika, the beans and the cumin seeds. With the motor running on low, slowly drizzle 80ml olive oil. Adjust seasoning to taste, then spoon your broad bean dip into a shallow dish. Sprinkle with a little extra smoked paprika. 
(via Love Food Hate Waste New Zealand)
Mushroom and broad bean pasta
Blanch 140g broad beans and 120g peas. Place 500g pasta in a pan of salted boiling water. Cook until al dente. 
In the meantime, bring 2 tbsp water to boil in a pan. Turn down the heat, then gradually whisk in 115g butter (or plant-based spread) until melted with the water. Be careful the spread doesn't boil or it will separate. Add mushrooms (the equivalent of 40 small ones), plus the peas and broad beans. Warm gently until the mushrooms are cooked, then season to taste. 
Drain the cooked pasta and toss with a little olive oil, pepper and salt. Divide it between bowls and spoon over the buttery beans mix. Spoon over 160g soft dairy or non-dairy cheese. Sprinkle with fresh parsley, 50g toasted flaked almonds and lemon zest. 
(via Great British Chefs)
Pea and broad bean soup
Finely dice 1 small white onion (or any onion) and roughly chop 2 cloves of garlic. Add them to a large saucepan with a small glug of rapeseed oil, allowing them to sweat over a low heat for a few mins. Add 500g peas and 600g broad beans, fresh or frozen, plus 1.2l vegetable stock. Increase the heat and cook for 5 mins. 
Take off the heat to cool for 2 mins, then transfer in batches to the blender. Blitz until smooth, then place back in the pan over medium heat. Season to taste. 
Break up 2 slices of bread and place on a roasting tray. Add a bunch of spring onions, a sprinkle of salt and a small glug of rapeseed oil. Roast for 10-15 mins at 190 degrees C, until the bread is crunchy and the spring onions are golden. Fry the kernels from 1 corn on the cob in rapeseed oil and salt until crispy. Tear up 1 ball of mozzarella or plant-based cheese into bite-sized pieces. Serve the soup with the toppings.