10 fruit mocktail recipes you can try this Dry January
Welcome to the rise of the non-alcoholic cocktail. As more drinkers every year choose to take part in Dry January, mocktails are getting more attention. 
It's clear to see why. Making mocktails for Dry January means you can enjoy the flavours of your favourite drinks without having to give them up completely.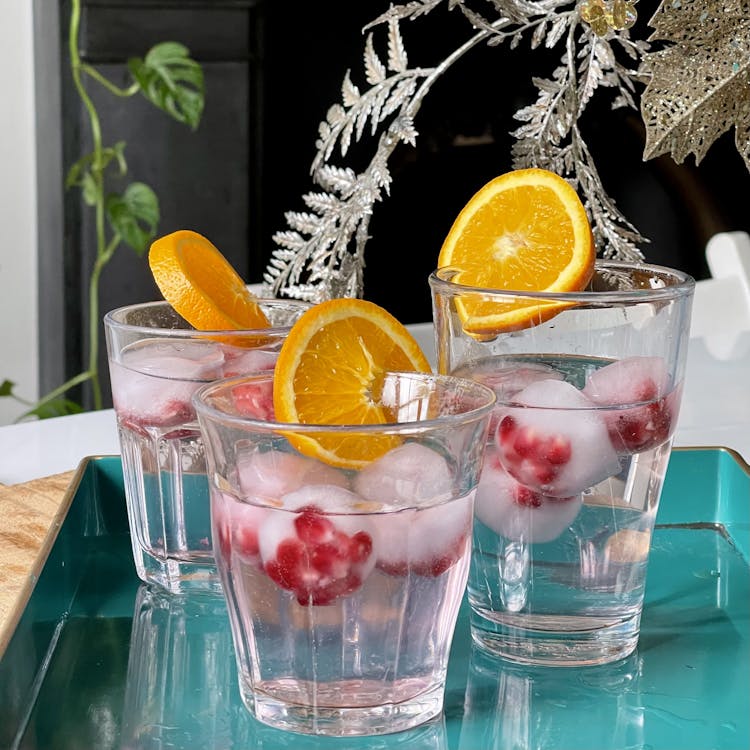 What is Dry January?
Taking part in Dry January means making a pledge to stop drinking alcohol for the month of January. Anyone can join in, for any reason. And you needn't wait until the beginning of the year for your own Dry January – start during any month you fancy. 
The Dry January campaign is run by Alcohol Change UK. When it began in 2013, 4,000 people took on the challenge. In 2021, that number had reached 130,000. Dry January doesn't mean hiding away for a month. You'll have a test at some point during the 31 days, whether that's going to a bar with friends or for a meal with your family. The question is, will you turn that drink down? 
Whatever this month brings for you, here are our favourite Dry January recipes to try at home. 
Apple mocktail
Apple, orange and ginger mocktail
This simple but fruity mocktail recipe brings out the best from apples and oranges, with a ginger kick too. Quarter and deseed 2 apples (no need to peel them) and peel 4 oranges. Whiz in a blender with 120ml water, 6-8 ice cubes, ½ inch of ginger and 2 tbsp of honey. Sieve the pulp out, if desired, and serve. 
As with any orange juice mocktail, replace the oranges with satsumas, clementines or another similar fruit if needed. Swap out the honey for agave or maple syrup to make it vegan. 
(via Cook's Hideout)
Pear mocktail
Faux fizz
These faux fizz fruit mocktails make a wonderful champagne alternative for any celebration. Slice and deseed 1 pear. To make the base syrup, add the pear into a saucepan with 4 dried apricots, 75g golden caster sugar, 25g honey, a sprig of rosemary, a strip of lemon zest and 100ml water. Heat the mixture for 10 mins, or until the pear is very soft and the sugar has dissolved. Strain the syrup into a jug, add 2 tsp apple cider vinegar and chill in the fridge for 30 mins or longer. Pour 25ml of the syrup into a champagne flute and top with chilled sparkling water to serve. 
If you don't have dried apricots, nectarines make a wonderful alternative – just reduce how much water you add to the base syrup. If needed, swap the golden caster sugar and honey for your preferred sweeteners. 
(via BBC Good Food)
Blueberry mocktail
Blueberry, lime and mint mocktail
In a mortar and pestle, muddle (lightly crush) 10-15 blueberries and 8 mint leaves. If you don't have a mortar and pestle, use a wooden spoon in the glass you're making your mocktail. Juice 1 lime and stir it into the mixture. If you have a sweet tooth, add 1 tsp of honey or another sweetener. Transfer the mixture to the glass, if you haven't already, and add ice. Top with chilled sparkling water or kombucha, stir and serve your blueberry mocktails. 
(via The Mindful Mocktail)
Kiwi mocktail
Green lemonade
Making kiwi mocktails may sound a little offbeat, but this one is delicious, we promise. Peel 1 kiwi and slice it into thick chunks. Muddle most of it, except for one of the slices, in a cocktail shaker with 1 ½ tbsp simple syrup. Add ice, 120ml lemonade and 60ml lime cordial. Shake well, then strain it into a tall glass with fresh ice. Garnish with your remaining kiwi slice and serve. 
If you don't have lime cordial, fresh lime juice will provide the citrus hit. Likewise, simple syrup can be subbed for another sweetener of your choice. 
(via The Spruce Eats)
Nectarine mocktail
Nectarines and cream
A twist on 'peaches and cream', nectarines from your box carry the same flavour in this super easy mocktail. Slice and remove the pits from the nectarines, then freeze the fruits for around three hours. They should be cold and firm, but not quite frozen. Whiz them in a blender. Fill four tall glasses with crushed ice, then pour the nectarine mix evenly into each one. Top each glass with coconut milk (preferably light), stir and garnish with fresh mint. 
Of course, if you don't have nectarines, use peaches to make creamy peach mocktails. 
(via Cook At Home Mom)
Passionfruit mocktail
Passionfruit martini
A new take on the classic pornstar martini, this passionfruit mocktail is intriguing and perfectly sweet. And you'll use up 1 ½ passionfruits in each one. Halve a passionfruit and scoop out the seeds. Spoon them into a cocktail shaker with ice. Add 50ml sparkling or cloudy apple juice, 15ml passion fruit syrup, 15ml lime juice and a few drops of vanilla extract. Shake well and strain into a martini glass, then garnish with another half of a passion fruit. 
Try this recipe with freshly squeezed apple juice and if you don't have passion fruit syrup, swap it for another flavour. 
(via Olive Magazine)
Watermelon mocktail
Watermelon and coconut mocktail
If you find yourself with melon, transform it into a coconut water mocktail. Cut 1 whole watermelon into small pieces and remove the seeds. Save them to roast in the oven later. Whiz the watermelon pieces in a blender, along with 2 tbsp of lemon juice. Strain the mixture to collect the juice, then add a few chopped mint leaves and 400ml coconut water. Mix your watermelon mocktails well, then serve with ice cubes and a lemon slice. 
If you don't have watermelon, try this recipe with any type of melon. 
(via Plattershare)
Mango mocktail
Mango and cherry mocktail
Inspired by the flavours of traditional Italian granita, this easy mango mocktail has a hint of cherry and the texture of a slushie. Six hours before making your mango and cherry mocktails, blend 120ml mango flesh with 60ml apple or grape juice for each one. Freeze this mixture into ice cubes in a tray. Once they've frozen, put one cube aside. Grate the other ice cubes in a blender on the lowest setting, along with 4 tsp grenadine. Top with both a maraschino cherry and the remaining mango cube on a cocktail skewer. 
If you don't have grenadine, use cherry juice instead – or even any flavour juice you like. 
(via 3 Boys and a Dog)
Pineapple mocktail
Caipirinha
With its classic sharp cocktail flavours, caipirinha is the national drink of Brazil. This alternative mocktail with pineapple juice probably makes up at least one of your five-a-day. Juice ½ a peeled pineapple, 1 barely peeled lime, ½ cucumber, 3 sprigs of mint and a large handful of spinach. Pour over crushed ice and serve. 
Got a lemon instead of a lime? Melon instead of a pineapple? If you don't have all of the ingredients, mix and match.
(via Foodie Quine)
Lemon mocktail
Sherbet fizz
To satisfy the big kid in you, try this wonderful fresh and sweet lemon mocktail. First, you'll make Oleo Saccharum. Peel 10 lemons, 2 grapefruits and 2 oranges. Place the peels in a large metal bowl and store the fruit in the fridge for later. Add 600g sugar to the bowl and, with a muddler or end of a rolling pin, bash the sugar into the peels for 15 mins. Cover the bowl and leave for 24 hours on a cool, dry worktop. Return occasionally to bash the peels some more – they need to release their oils into the sugar. Once a very thick syrup has formed, juice the fruit flesh from the fridge and add to the syrup. Stir, strain and decant. Serve in a white wine glass filled with ice cubes, top with soda water and gently stir. Garnish with a grapefruit peel. 
If you don't have the exact quantities of grapefruit, oranges and lemons in, use whichever citrus fruits you have available. 
(via The Happy Foodie)