Japanese Inspired Cabbage fritters with Sesame Dipping Sauce
These cabbage pancakes are an easy and delicious dish, made with fresh cabbage. Super quick to put together and cook, they can also be made up to 3 days in advance and stored in the fridge until ready to eat.
Prep time: 10 minutes
Cook time: 20 minutes
Total time: 30 minutes
Servings: 2
Ingredients:
300 g Pointed cabbages (or any cabbage )
170 g Plain flour
1 tsp Salt
1 tsp Ground ginger
200 ml Ice cold water
Vegetable oil (for cooking )
For the dipping sauce:
1 tbsp Mirin
2 tbsp Soy sauce
2 tsp Sesame oil
1 tbsp Sesame seeds
Chilli flakes (to taste )
Recipe:
Shred the cabbage and set aside.
In a bowl, add the flour, ginger powder and salt. Make a well in the centre and pour in the ice cold water. Whisk until combined.
Add the shredded cabbage into the batter and mix well.
Place a large frying pan over medium-high heat. Add a generous dollop of vegetable oil. When the oil is hot, cook little pancakes until golden brown on both sides in batches.
Combine all the dipping sauce ingredients together and serve alongside the cabbage pancakes.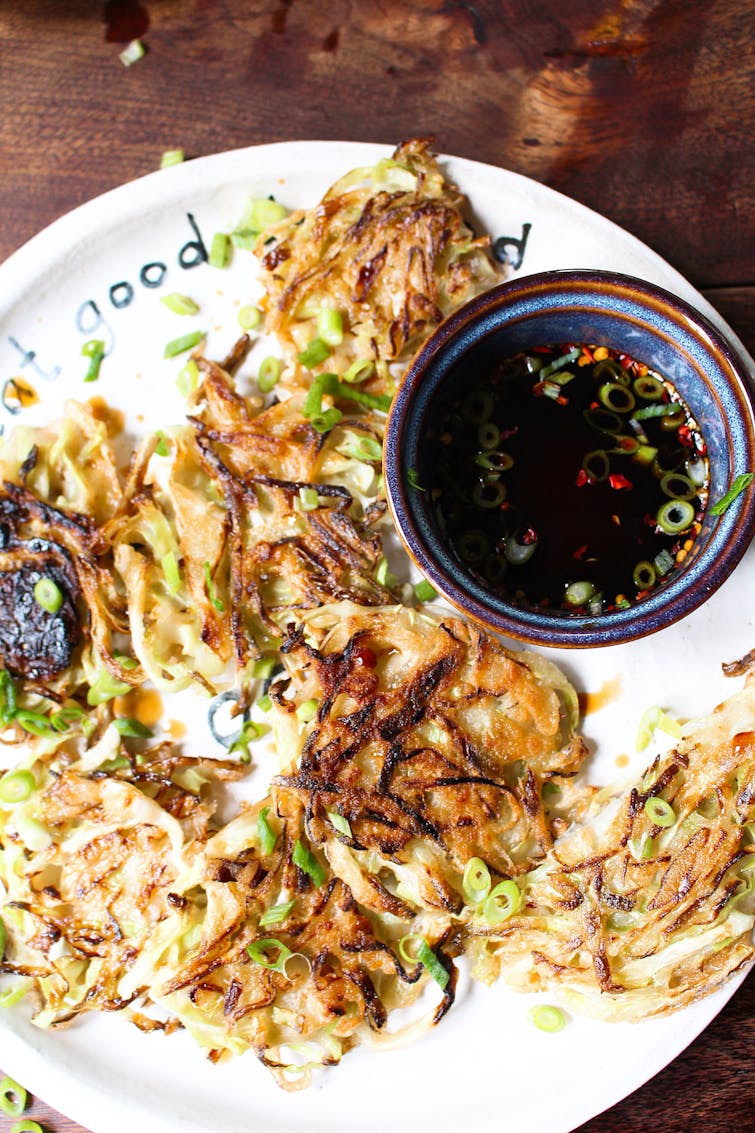 ---
How to store
Store in an airtight container, in the fridge, for up to 3 days or in the freezer for up to 1 month. The cabbage pancakes can be reheated in the oven.