Curried Butternut Squash, Pak Choi, Onion and Coconut Stew
Diced butternut squash cooked until tender in a curried creamy coconut milk, and served with pak choi, lime juice and chopped coriander.
Substitute:
No butternut squash? Try with pumpkin instead. 
No pak choi? Use spinach or kale instead. 
No coconut milk? Try with any milk you prefer to cook with. Cashew milk would be a great alternative. 
No vegetable stock? Use water instead. 
No rice? Serve the stew with naan bread instead.
Prep time: 10 minutes
Cook time: 20 minutes
Total time: 30 minutes
Servings: 4
Ingredients:
550 g Butternut squash (peeled and cubed )
300 g Pak Choi (sliced)
1 Onion (chopped)
2 Garlic cloves (chopped)
50 g Ginger (grated)
1 tbsp Garam masala
1 tsp Ground turmeric
1 Can coconut milk (400 ml)
400 ml Vegetable stock
Olive oil
1 Lime
20 g Coriander (chopped)
Salt & pepper
Basmati rice (to serve)
Recipe:
Measure your ingredients.
Peel and cube the butternut squash. Cut the pak choi in quarters. Finely chop the onion. Grate the ginger and garlic.
Heat 2 tbsp olive oil in a large saucepan over medium heat. Add the onion and cook for 5 minutes until soft. Add the ginger, garlic, and butternut squash and cook until fragrant, about 2 minutes. Stir in the garam masala, turmeric, and cook for another minute.
Add the stock and season generously with salt. Bring to a boil, then reduce the heat to low. Cover and simmer for 15-20 minutes, or until the butternut squash are tender. Stir in the coconut milk and cook for 5 minutes.
Meanwhile, cook rice in boiling salted water and pan fry the pak choi in olive oil, until tender and lightly charred.
Remove the stew from the heat and add the coriander and juice of 1 lime. To serve, divide the rice among bowls and ladle the stew overtop.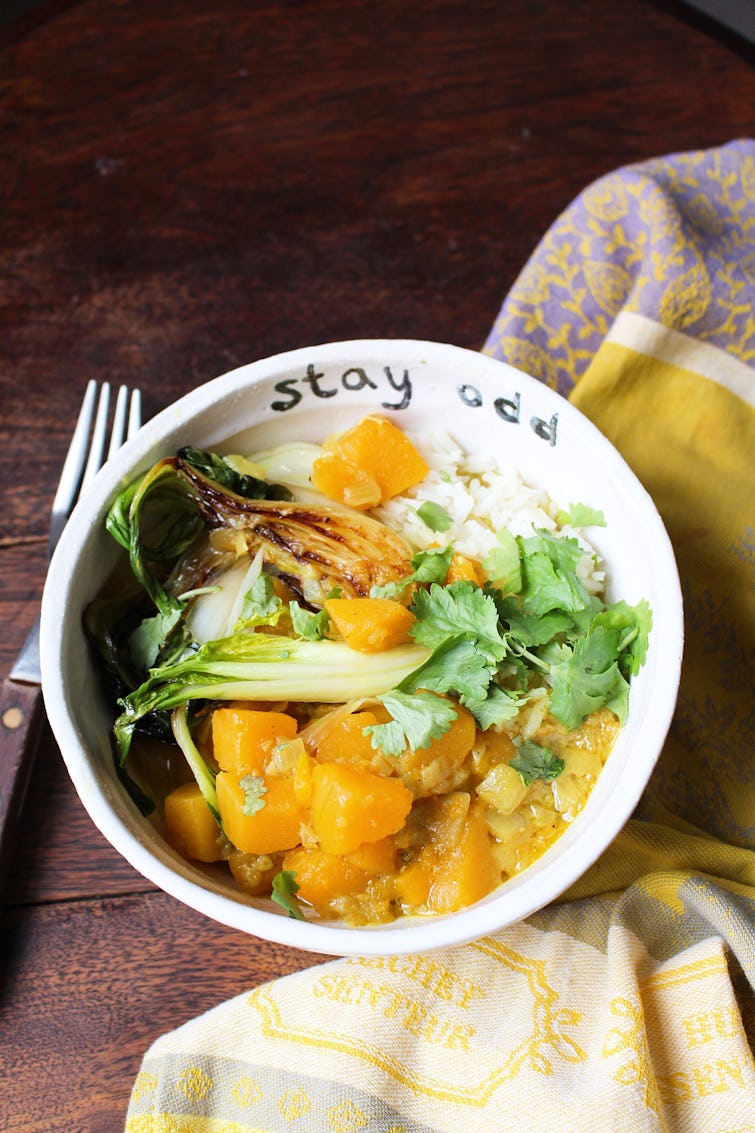 ---
How to store
Store in an airtight container, in the fridge, for up to 3 days, or freeze for up to 1 month. 
Leftovers
Reheat any leftover and serve with warm naan bread.