Avocado Grilled Cheese Sandwich
Make this quick and tasty grilled cheese sandwich with a warm and creamy avocado filling, crispy bread, fresh rocket and melted cheese. 
Prep time: 10 minutes
Cook time: 10 minutes
Total time: 20 minutes
Servings: 1
Ingredients:
2 slice Sourdough bread
3 slice Emmental cheese / Vegan cheese
1 Avocado
30 g Rockets
20 g Butter / Vegan butter
Salt & pepper
Recipe:
Slice the avocado: Insert the blade of a knife into the avocado. Turn the avocado around the blade so that you make a circular cut all the way around. Use your hands to twist and separate the two halves of the avocado. Insert the point of your knife into the surface of the seed, then lift it out. Slice through the avocado flesh while the avocado is still in the peel, without slicing through the peel. Scoop out the flesh with a spoon and compost the peel and seed. 
Make the grilled sandwich: Heat up a frying pan over medium/high heat and melt the butter. Grill the two slices of bread in the melted butter until crispy and golden on one side. Reduce the heat, and flip the bread slices on the other side. Add the avocado on top of the bread slices, season with salt and pepper, and cover with a couple of cheese slices. Cover the pan with a lid or with a baking tray to create steam and leave the cheese to melt for 4-5 minutes.
Finish the dish: Remove the lid, turn off the heat and carefully transfer the bread and avocado to a plate. Add some rocket leaves and top with the second bread slice. Cut in half and eat immediately.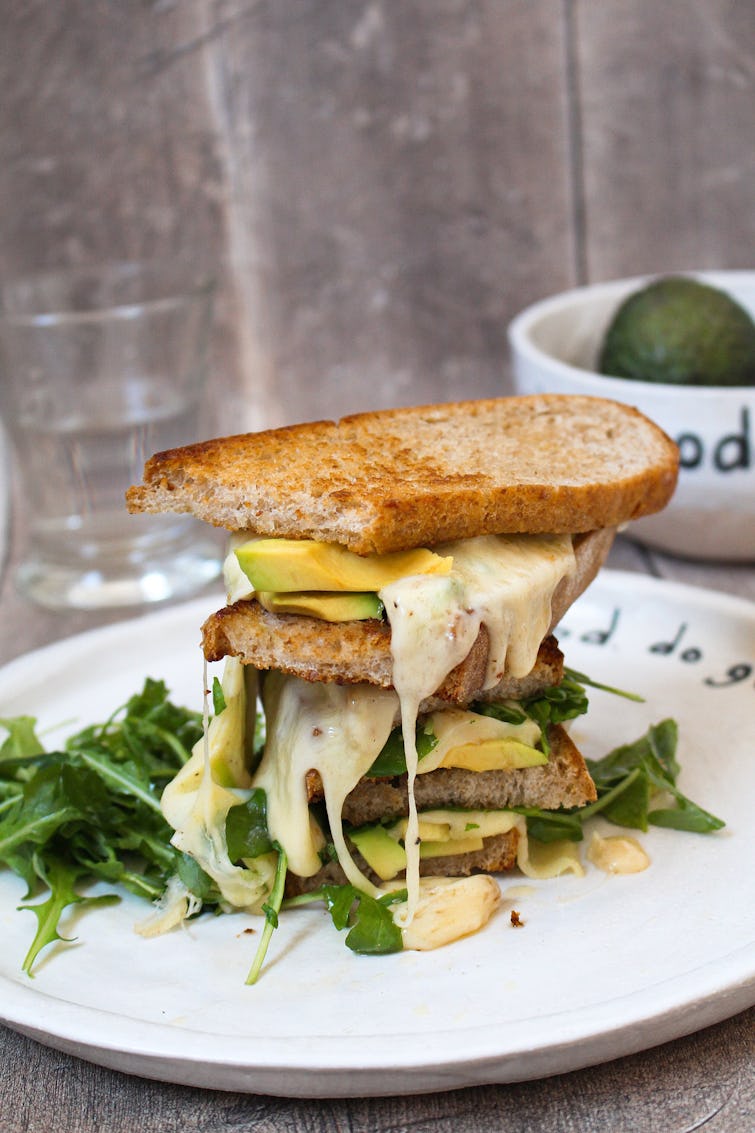 ---
How to store
Store your grilled sandwich in the fridge for up to 3 days. When ready to eat, place the grilled sandwich in a hot oven for 5 minutes, or until warm and the cheese has melted again. 
Leftovers
Cube your leftover grilled sandwich, to make them into croutons for salads or serve them with soups such as tomato soup.