7 ways to help the planet this National Vegetarian Week
It's National Vegetarian Week and we're putting more veg at the centre of our plates to help us cut our carbon footprint and live more sustainably. Eating more vegetables and reducing our meat intake is one of the simplest and cheapest food choices we can make to help us to reduce both our dependency on the earth's precious resources.
Here at Oddbox, we're passionate about delicious vegetables and we hate to see them going to waste. Food waste is one of the largest contributors to global greenhouse gasses, emitting harmful emissions into our atmosphere – not to mention all the energy, water and resources needed to grow that food in the first place. We work with growers across the UK to rescue fruit and veg that might get thrown away, meaning each Oddbox delivered is one less box of fruit & vegetables that might've otherwise gone to waste.
Here are some tips and recipes to help you make the most of delicious vegetables this National Vegetarian Week: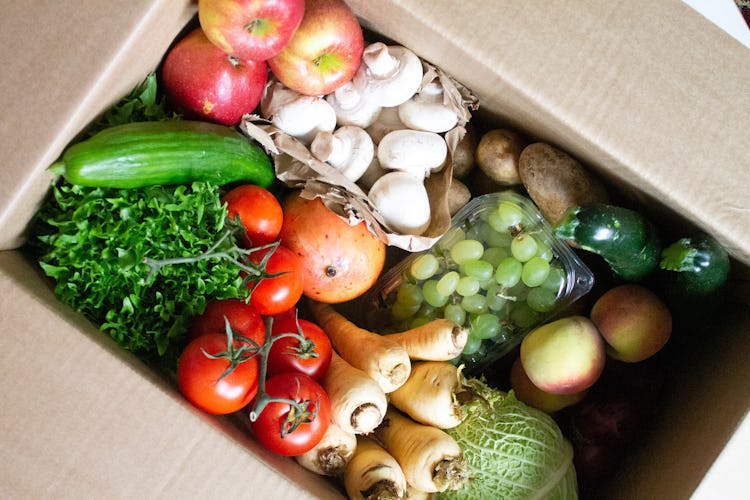 COOK YOUR VEG BOX 
Congrats! You've signed up to an Oddbox full of delicious produce that would otherwise have been wasted. Now it's time to make the most of every last bit of them! Here's our guide to cooking through your veg box with top tips to help you waste less.
GET CREATIVE WITH YOUR VEG
If you're seeking new, inventive ways to make the most of wonderful veggies this week, check out our 7 veg alternatives to your favourite carbs, this Peach & Courgette Pizza recipe or these Smoky courgette tacos.
GROW YOUR OWN VEG BOX
There's no need to throw your veg ends in the bin, cut your food waste and regrow them instead. It's surprisingly easy! Here's our guide.
COOK COOK COOK! AND GET THE KIDS INTO IT TOO
Cooking in a more planet-friendly way is really down to how much we cook from scratch. The more we cook from raw ingredients, the less we have to rely on plastic-packaged alternatives and the more we can learn how to use up food less wastefully. The more comfortable we are with cooking our food, the more likely we are to experiment with new ingredients and experimenting with our leftovers and scraps too. Getting children involved from a young age is a brilliant way to instil greener eating and cooking habits from a young age. Here are 4 simple ingredients to get the whole family cooking.
FOOD SCRAPS FOR THE BIN? NO PROBLEM, COMPOST IT INSTEAD!
Making your own compost might sound scary, but it's actually very simple. Reduce your carbon emissions and turn your food scraps into nutrient-rich soil to plant your veggies and repot houseplants. Here's a guide.
UPCYCLE YOUR FOOD WASTE
Got leftover vegetables? Turn them into these 12 dishes. Don't worry about the stalks, stems and skins, here are some ways you can stretch your fruit and veg that little bit further. 
PRESERVE! 
Got a surplus of vegetables you know you won't use? Extend their shelf life by pickling them or freezing them. Or find 10 ways to store and save your food so it lasts much longer.