How to have a fully low-waste BBQ
The UK sun is slowly realising it's June and giving us more sunny days. So it's high time we get the grill out, blow the cobwebs off and put all kinds of foods on it! 
But you can take it further by using up leftover fruit and veg on the BBQ, and by supporting companies who prevent food waste every day. BBQs should be easy. So check out our ideas for how to have a low-waste BBQ without a ton of planning or effort.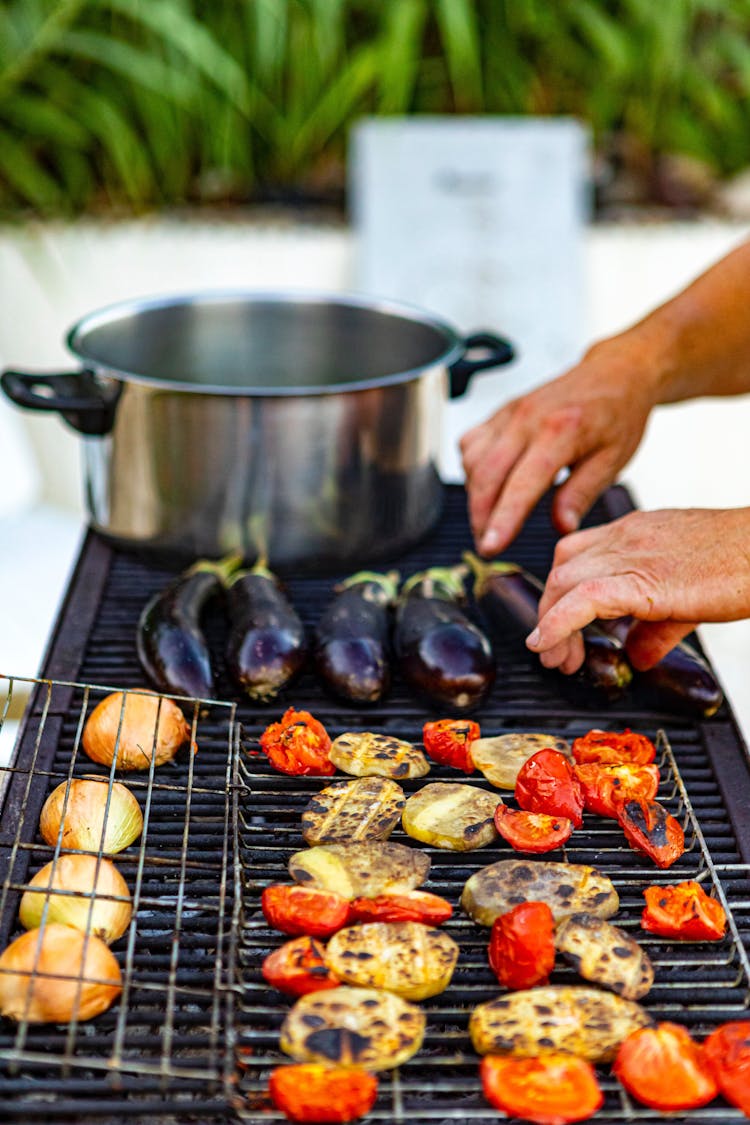 LOW-WASTE VEGGIE BBQ RECIPES TO COOK UP
First, what are you going to cook? Use up two courgettes by making courgette and halloumi (or similar vegan cheese) skewers with this BBC Good Food recipe. Or cover an aubergine with sweet miso glaze, then grill it over the BBQ in this recipe from The Telegraph. 

With a little prep, you can halve and stuff peppers with any variety of ingredients. Keep your tomatoes simple when you BBQ them though, adding olive oil and sea salt to taste. Grill both veggies until they soften and their skins become a tiny bit charred. 
LOW-WASTE SIDES TO ACCOMPANY THE BBQ
Got some leftover fennel? Struggling to get through your carrots? Potato salad is a versatile dish as you can change the flavours in every batch. Why not finely slice some veggies to add to your cooked potatoes? Then mix with Rubies in the Rubble Plant Based Mayo, salt, cracked black pepper and plenty of spring onion. 
Another way to get through your vegetables, while serving a mixture of hot and cold BBQ dishes, is in a big bowl of tofu salad. You'll use 8 large handfuls of spinach, 1 carrot, 1/2 a cucumber, 1/2 a pepper and 1 avocado with this refreshing recipe from I Love Vegan. 
LOW-WASTE CONDIMENTS FOR SPREADING AND DIPPING
No BBQ is complete without an assortment of dips and sauces. That's where Rubies in the Rubble can help - they're even selling a BBQ Bundle right now containing tomato ketchup, chilli onion and chilli mayo. 
Our good friends at Rubies are also on a mission to stop delicious food from going to waste. They make their condiments and dips from surplus and odd-shaped fruit and vegetables. So far, they've saved 351,600kg of produce that would've gone to waste otherwise. 
LOW-WASTE FIZZY DRINKS AND JUICES TO KEEP EVERYONE HYDRATED
What will you drink at your BBQ? You could transform older fruit into drinks packed with flavour. Slow cook your rhubarb with this simple rhubarb cordial recipe. Juice your apples to make this apple, elderflower and mint sparkle. Add ice cubes and sparkling water to taste, and fill a pitcher to serve to guests. You could also have a go at these fruit mocktail recipes.
If you're short on time and still want a good selection of refreshing drinks for your afternoon in the sun, stock your fridge with Flawsome! Drinks. They press surplus and wonky produce into an impressive variety of both sparkling and still juices. And they've saved almost 23 million pieces of fruit so far. 
LOW-WASTE ALCOHOLS FOR SOMETHING A LITTLE STRONGER
Searching for something alcoholic, easy to drink in the afternoon and low-waste too? Toast Ale uses surplus bread to brew tasty, high-quality craft beers. And their selection seems to grow every week. We recently collaborated with them to create this special Mango IPA made with wonky fruits. 
If you're more of a spirits lover, make easy cocktails from your leftover fruits and veg. If you have celery to hand, use it to flavour this celery gin fizz cocktail. Then blend the same celery, along with a chunk of fennel, into this grapefruit vodka cocktail. Combine blueberries or gooseberries with apple cider vinegar, sugar and gin to create a berry shrub cocktail. Check out our blog post here for the full instructions and more delicious, fruity low-waste cocktail recipes. 
LOW-WASTE DESSERTS TO SATISFY YOUR SWEET TOOTH
What desserts will you bring out to wow your guests? You'll need a cake that's easy to portion out and share. And if there's one thing almost everyone will go for, it's chocolate cake. Use up all your blueberries with this vegan chocolate blueberry cake from Almost Zero Waste. You can also use your fruit to make your own fancy ice lollies. They're not just for kids either – blend apricots for these apricot, cardamom and pistachio ice lollies (just replace the honey with agave syrup to make them vegan). 
Or to truly infuse the BBQ spirit into everything you eat, caramelise 4 pears by halving them, then coating with brown sugar and melted spread. Simply grill the pears to perfection and serve them with plant-based or dairy sour cream! 
BONUS TIP: SEND YOUR GUESTS HOME WITH LEFTOVERS
We can all be guilty of the fear that we'll run out of food during an afternoon BBQing. And it's easy to go overboard instead. Keep track of how many people are coming to the BBQ and try to plan for realistic portions. 
Unavoidable leftovers are unavoidable, however, and there is a simple solution. Ask everyone to bring reusable containers with them. If you have food left over at the end of your low-waste BBQ, guests can choose portions to take home with them.