A step-by-step on how to eat your pumpkin from skin to seed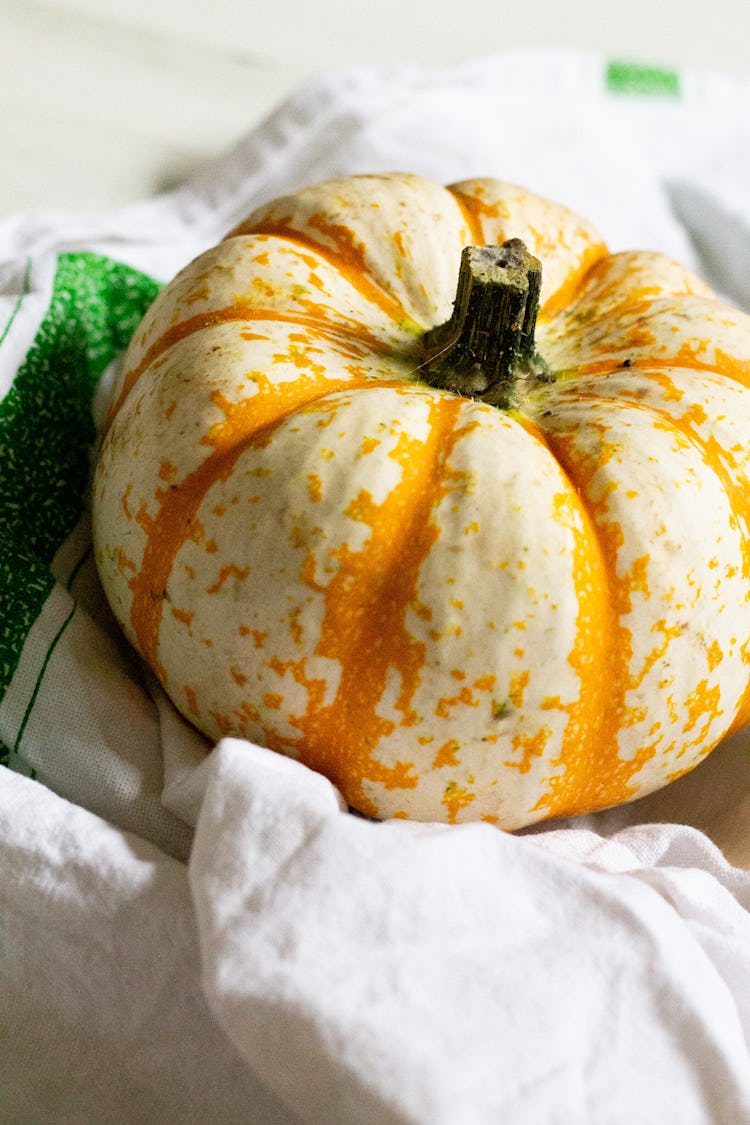 THE FLESH
Pumpkin is sweet, nutty and robust and pairs well with warming, autumnal flavours, like chilli, woody herbs like thyme and rosemary, and punchy, earthy spices like cumin and coriander, as well as cinnamon and nutmeg. Here's what to do with your pumpkin:
Roast it simply by slicing your pumpkin into wedges (you can keep the skin on) and drizzling with oil, a little honey and cumin seeds. Roast until golden and tender at 200ºC. Roasted pumpkin is great in colourful warm salads, for example with kale, chopped nuts and an orange dressing. Serve as wedges alongside a veggie burger or  pair with hummus as Nigel Slater does here.
Make pumpkin hummus. Roast your pumpkin as above, then leave to cool. Scoop out the flesh (if you didn't remove the peel first), then blitz in a blender with tahini, lemon juice, a bit of garlic and cumin. We love this recipe. 
Mash your pumpkin by chopping the flesh into small chunks (make sure to remove the skin first, see below) and boil until tender. Drain and mash it well with a knob of butter or a bit of oil and a splash of milk or dairy-free milk. Serve as a side or on top of a veggie cottage pie, or turn the mash into Sunday brunch pumpkin pancakes with a pinch of autumnal cinnamon and nutmeg. 
THE PEEL
Save yourself the trouble of removing the peel and keep it on unless you're making a mash, hummus or purée. If you do remove the peel, save it by roasting it into crisps: sprinkle with salt, drizzle a small amount of olive oil and bake it for 25 minutes on the top rack of a 200ºC oven until crisp. Here's what you do next:
Store your pumpkin crisps for a snack on the go.
Serve up with pumpkin hummus (see above) for a delicious zero-waste nibble.
Crisp butty: make yours more saintly and squash your pumpkin crisps into a sarnie with roasted veg and a layer of hummus.
THE SEEDS
Save your pumpkin seeds by roasting them to add to our favourite dishes. Rinse the seeds of the fleshy, stringy bits and dry in a clean tea towel. Place on a baking tray and coat with olive oil or coconut oil and a pinch of salt and chilli flakes (if you like), then roast for about 10 minutes at 180ºC. Here's what to do next:
Shake up your seeds with your usual homemade or shop-bought granola mix.
Scatter them onto soup or into salads for nice added texture.
Stir through rice, couscous or other grains along with dried fruit and serve as a jewelled side to curry.
ROAST IT WHOLE
There's no need to peel or carve up your pumpkin at all. Roast it whole and stuff it with any leftover bits you have in the fridge. Simply slice off the top and hollow it out by removing the seeds and stringy bits (see our tips for saving these), then drizzle with oil and a bit of salt and roast at 180ºC until tender. 
Stuff it with one of the following, then return to the oven until cooked through and bubbling. Here are some optional fillings:
Leftover bean stew or ragu, topped with a crumbling of feta
Anna Jones' delicious freekeh and fennel filling 
Any combo of cooked grains, dried fruit and nuts, like this 5-ingredient recipe from Jamie Oliver
THE SCRAPS  
At the centre of your pumpkin, you'll find a bunch of seeds attached to stringy flesh. When you remove and clean your seeds, keep those leftovers to add to your next soup or veggie fritters. You could even freeze it until you're ready to use it.