Summer broad bean bruschetta
This recipe for summer broad bean bruschetta comes from theorganiccookery.com. Give it a try today!
Prep time: 10 minutes
Cook time: 5 minutes
Total time: 15 minutes
Servings: 6
Ingredients:
Sourdough bread
350 g Broad beans (ideally fresh broad beans in pods)
a bunch of Dill
1 Garlic clove
½ Lemon (juice and zest)
200 g Goats cheese (sheep's cheese works as well)
2 tbsp Yoghurt
Olive oil
To decorate:
Chilli (fresh)
Sprouts (I used alfalfa)
Recipe:
The broad bean spread: take the beans out of their pods and steam them for 3 min or until they are soft and a fork can easily pierce through them. I would always steam any vegetables as it is a more gentle cooking process ensuring you are still keeping as much of the vitamins and minerals as possible. If you do not have a steamer just pop them in a metal colander over steaming water and pop a lid on top. There you have your very own home made steamer! After the broad beans have cooked, pop them in a food processor fitted with an S blade, together with the juice and zest of half a lemon, small bunch of dill, garlic clove, salt and glug of olive oil. Whizz for a couple of minutes or until you get a smooth paste. You will love the colour!
Cheese spread: using sheep or goats cheese is a nice variation from your cows cheese. In addition their medium chain fatty acids makes these more easily digestible as well as they content of lactose is smaller so people that have a small lactose intolerance might be able to tolerate this. Mix the fresh cheese with the yogurt, salt, pepper and 1 tbsp of olive oil.
Cut the rye sourdough in 2 cm slices and put them on a hot griddle pan or in a toaster. Spread first the cheese and on top the broad bean spread. Top up with a few slices of chilli (this is optional) and a few sprouts for an extra fresh crunch and kick of vitamin K. This vitamin will help ensure the calcium in the cheese is being bound in bones and other tissues.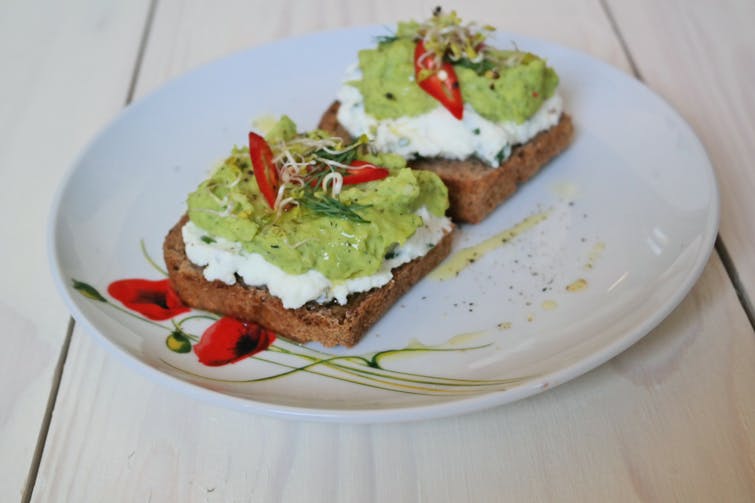 ---