Satsuma Chocolate Mousse
The sweet, fresh and juicy satsuma segments are a great pairing with this simple chocolate mousse infused with the satsuma zest. 
Prep time: 20 minutes
Cook time: 180 minutes
Total time: 200 minutes
Servings: 3
Ingredients:
3 Satsumas 
50 g Dark chocolate 70%
50 g Milk chocolate
3 Organic eggs
¼ tsp Salt
Recipe:
Prepare the satsumas: Zest, peel and segment the satsumas. Compost the white bitter membrane. 
Make the chocolate mixture: Break the chocolate into a saucepan, and add 3 tablespoons of water. Melt the chocolate over low heat, stirring with a spatula, until nice and smooth. Turn off the heat, separate the eggs, and add the yolks, one at a time, into the chocolate. Stir to combine. Add the satsuma zest to the chocolate mixture. 
Whisk the egg whites: In a clean bowl, beat the egg whites and salt to a stiff peak. With a spatula, fold about a ¼ of the egg whites into the chocolate mixture to lighten and loosen it. Then gently fold in the rest of the egg whites and stop mixing when just uniform. 
Immediately divide the mousse into upcycled jam jars (or use glasses), close with their lids and refrigerate for at least 3 hours before serving. To serve; add the fresh satsuma segments on top.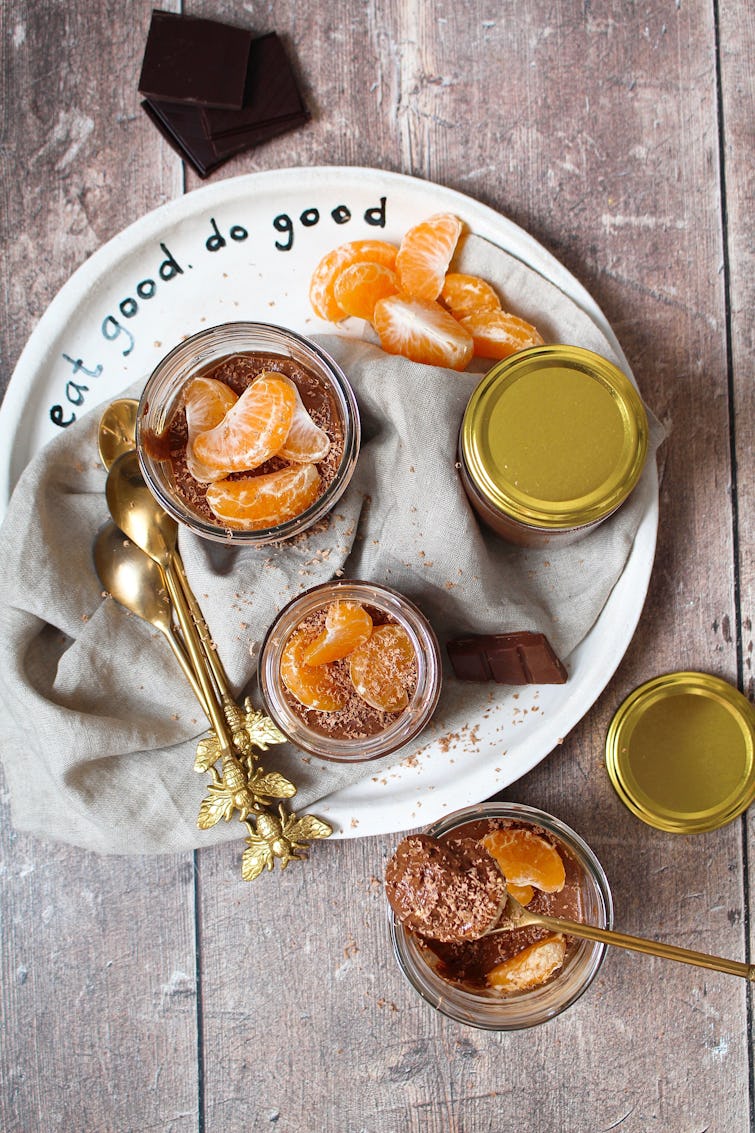 ---
How to store
Store covered in the fridge for up to 3 days. 
Leftovers
Make a chocolate mousse pie with your leftovers. Make any pie base, bake it until golden and let it cool fully before pouring the chocolate mousse on top. Set in the fridge for a couple of hours and serve.