Salad Leaves Filo Pie
Golden filo sheets filled with salad leaves, feta cheese/vegan feta and sesame seeds. It's crunchy, creamy and super easy. 
Substitute:
No salad leaves? Use spinach, kale or cavolo nero instead. 
No feta? Try with ricotta instead. 
No eggs? Use chia seeds or flax seeds instead. 
No filo pastry sheets? Try with a ready rolled puff pastry/vegan puff pastry instead.
Prep time: 20 minutes
Cook time: 25 minutes
Total time: 45 minutes
Servings: 4
Ingredients:
200 g Mixed salad leaves
120 g Feta / Vegan feta
3 Eggs / Flax seed
2 Garlic cloves (grated )
1 tsp Lemon zest
Salt & pepper
6 Filo pastry sheets
Olive oil
1 tbsp Sesame seeds
Recipe:
Preheat the oven to 180 C/160 fan/4 gas mark. Roughly chop the salad leaves.
In a large frying pan heat 1 tbsp of olive oil over medium-high heat. Add the salad leaves and cook until wilted, for about 4 minutes. Turn off the heat and set aside. When cool enough to handle, squeeze out any excess water, using your hands.
In a large mixing bowl, combine the eggs, feta, garlic, lemon zest, and a generous pinch of both salt and pepper.
Add the salad leaves to the egg mixture. Mix to combine.
Lightly grease a baking dish with olive oil. Add a layer of filo pastry, letting the edges overhang slightly. Brush with a little olive oil, then add another layer of pastry, repeating until you have done the 6 layers.
Spoon the mixture into the filo pastry case. Bring the edges of the dough up and over the salad leaves.
Gently brush the filo pastry with a little olive oil and sprinkle the sesame seeds over.
Transfer to the oven and bake for 25-30 minutes, until the filo is golden brown.
Serve warm or at room temperature.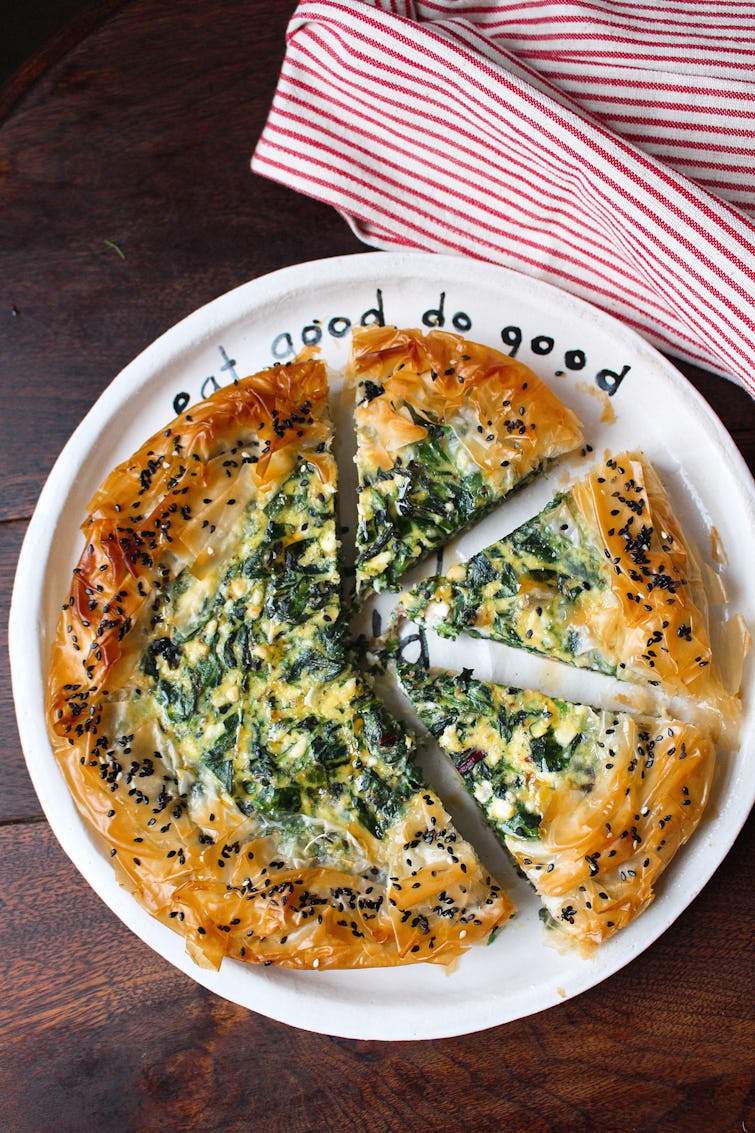 ---
How to store
Store in the fridge for up to 3 days. Reheat in a hot oven for 10 minutes. 
Leftovers
The tart is lovely served with simple roasted vegetables, or cut into small pieces and added to a sharing board.