Roasted Bell Pepper Gazpacho
Make the most of your bell peppers with this easy gazpacho recipe! Made with roasted bell peppers, onion, garlic, vinegar, and olive oil, this cool soup is rich, tangy, and refreshing.
Substitute:
No peppers? Try tomatoes instead - no need to roast them, just blend with the onion, garlic and vinegar. 
Try adding 2 tomatoes, and 1 cucumber (both raw) to this recipe. The tomatoes and cucumber being more watery, you might need to add less water - start with half and add more if needed. 
No onion? Use a shallot instead.
Prep time: 10 minutes
Cook time: 25 minutes
Total time: 35 minutes
Servings: 4
Ingredients:
2 Bell peppers
1 Onion (chopped)
2 Garlic cloves (peeled)
1 tbsp red wine vinegar
300 ml Water
1 tbsp Olive oil
Salt & pepper (to taste)
Basil leaves
Recipe:
Roast the bell peppers: Preheat the oven to 200 C/180 fan/6 gas mark. Place the bell peppers in a baking tray, drizzle with the olive oil and roast for 20-30 minutes, until tender and lightly charred. Remove from the oven and set aside until cold enough to handle.
Blend the ingredients: Peel and deseed the bell peppers - compost the peels and seeds. Place the bell peppers, onion, garlic, water and red wine vinegar in a food processor. Blend until smooth, then season to taste with salt and pepper. If too thick to your liking, add more water - make sure to adjust the seasoning too.
Serve: Keep your gazpacho in the fridge for a few hours (or overnight) until cold. The flavours will keep developing. Serve cold with fresh basil leaves.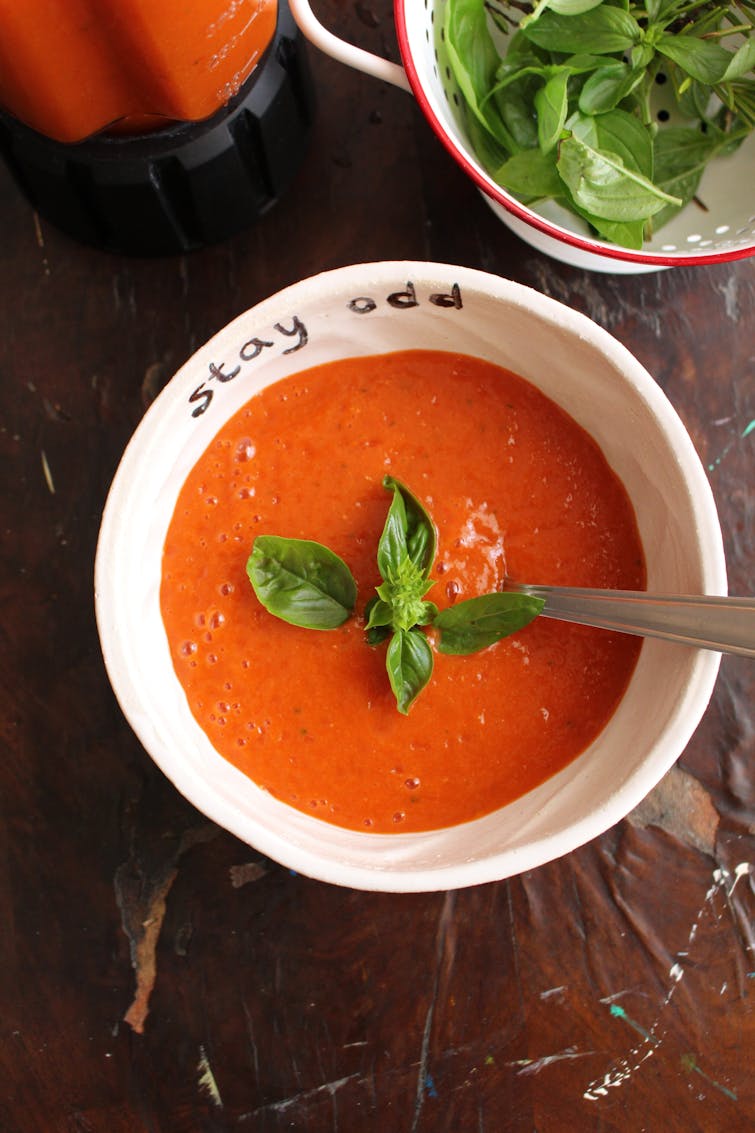 ---
How to store
Store the bell pepper gazpacho in the fridge for up to 3 days. You can freeze the gazpacho for up to 3 months too. 
Leftovers
Serve the leftover gazpacho with rosemary croutons, made from cubed bread seasoned with chopped rosemary, salt and pepper, and baked until golden and crisp.