Mild Peanut and Coconut Milk Curry
This delicious recipe is brought to you by our friend Helen at The Big Wide World and Me. Cooking from humble kitchen, Helen's passionate about cutting food waste & creating simple yet yummy recipes for everyone to indulge in! Check out her blog and Instagram (@thebigwideworldandme) to see more…
Prep time: 15 minutes
Cook time: 50 minutes
Total time: 65 minutes
Servings:
Ingredients:
1 large Onion (peeled and finely chopped)
1 tbsp Olive oil
1 Tin chopped tomatoes (400ml)
2 tbsp Tomato puree
1 tbsp Cornflour
30 g Basil leaves (a large handful, chopped)
a splash of Lemon juice
1 tsp Maple syrup (optional)
Salt & pepper
450 g Carrots (chopped into rounds)
3 medium Courgettes (chopped into half moons)
800 ml Coconut milk (2 tins)
1 tbsp Ground turmeric
1 tbsp Ground coriander
2 tbsp Garlic powder (or substitute for cloves)
155 g Moong dal (dried yellow split peas)
400 g Chickpeas (1 tin, drained and rinsed)
130 g Peanut butter
Recipe:
Heat the olive in a large saucepan on a low heat and then gently sauté the onion for 5 minutes.
Add the chopped tomatoes, tomato puree, cornflour, basil, lemon juice, maple (if using) and salt and pepper to taste. Bring to the boil and then simmer for 5 minutes.
Next add the carrots and courgettes, followed by the coconut milk, turmeric, coriander, garlic powder and moong dal. Bring up to the boil and then simmer for 30-40 minutes – until the moong dal and vegetables are tender and ready to eat. Stir regularly during cooking to stop the dal sticking to the bottom of the pan.
Add the chickpeas and peanut butter and stir through, until combined and piping hot.
Serve with rice. If you're feeling fancy, you could sprinkle some crushed roasted peanuts on top!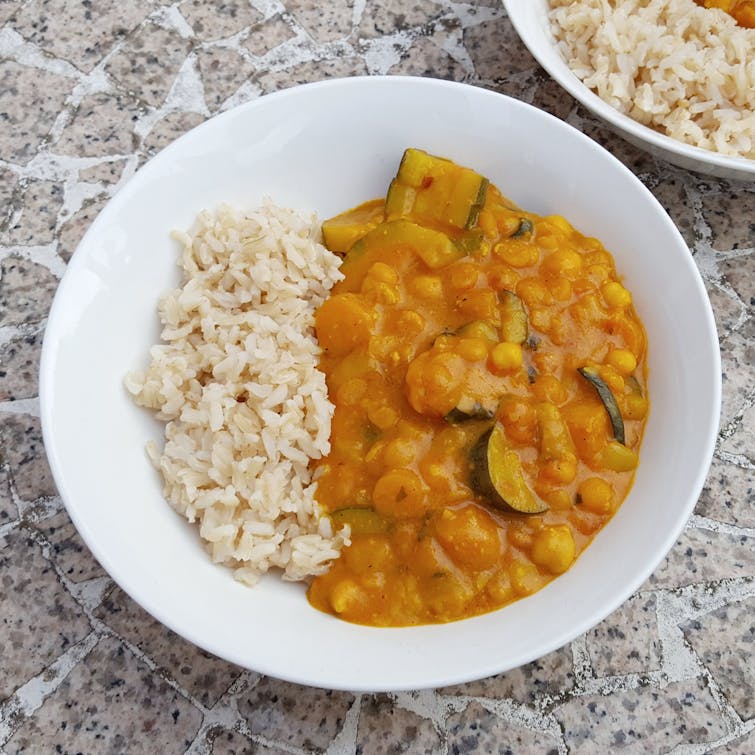 ---