Creamy Rosemary Potato Gratin
Creamy and garlicky potatoes with a good kick of rosemary. This gratin is crunchy on the top and buttery soft below.
Substitute:
No rosemary? Try with thyme or oregano instead. 
No potatoes? Use sweet potatoes, parsnips or carrots instead.
Prep time: 15 minutes
Cook time: 45 minutes
Total time: 60 minutes
Servings: 4
Ingredients:
7 medium Potatoes
3 sprig Rosemary
1 Lemon zest
4 Garlic cloves (chopped)
400 ml Single cream / Vegan cream
Salt & pepper
Recipe:
Prepare the potatoes: Preheat the oven to 200 C/180 fan/6 gas mark. Scrub clean the potatoes and rinse them under cold water. Use a mandolin or sharp knife to finely slice the potatoes. Arrange the slices into an ovenproof dish fanning them out slightly - this dish was roughly 18x18 cm.
Prepare the cream: In a bowl, combine the single cream, rosemary, garlic, lemon zest, salt and pepper. 
Cook the potatoes: Pour the rosemary cream over the potatoes, cover the dish with foil and bake for 20 minutes, then remove the foil and bake for another 30 minutes, or until the potatoes are cooked through.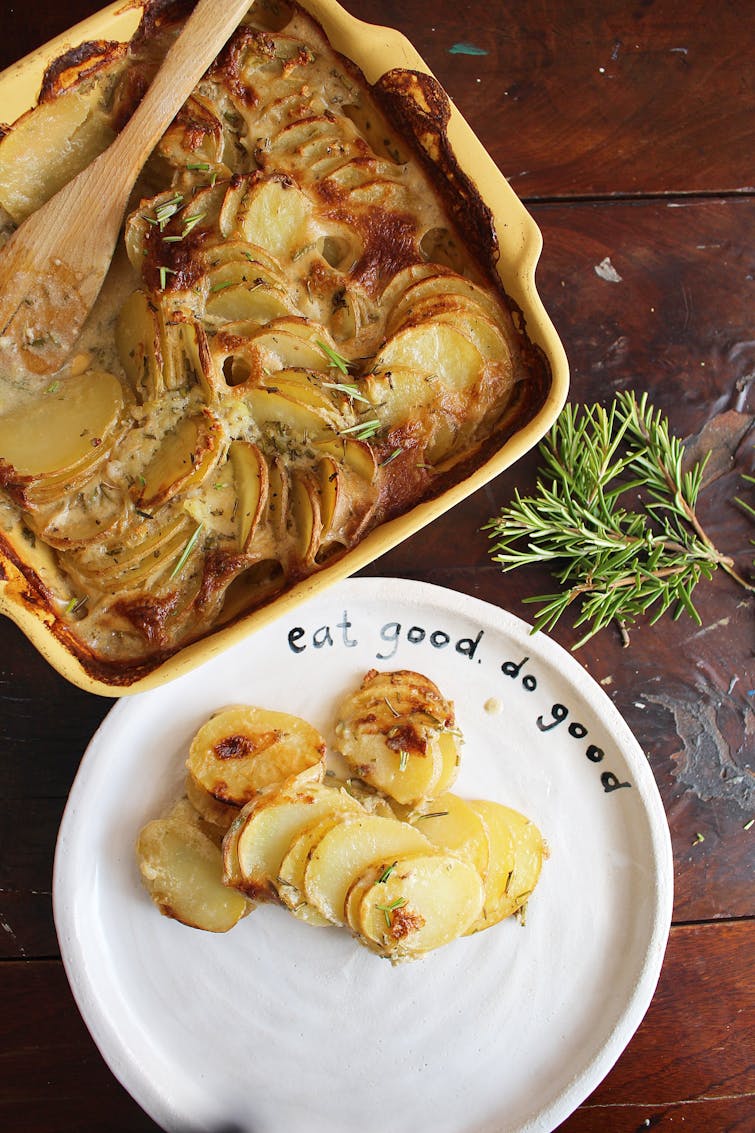 ---
How to store
Store the potato gratin in the fridge for up to 3 days. You can also freeze portions of the gratin for up to 3 months.
Leftovers
Make a frittata with your leftovers. Combine lightly beaten eggs with the potatoes, pour into an ovenproof pan and bake until cooked through. Serve with a side of salad, with a simple dijon mustard, lemon and olive oil vinaigrette.