30 Minute Meals: Spiced Carrot & Onion Bhajis
"These spiced carrot and onion bhajis with a cooling coriander & mint chutney are delicious alongside a homemade Indian curry. They also freeze well so make a big batch and thank yourself later!  They are vegan, gluten free and they use the whole carrot – including the gorgeous tops!" - Storm, guest ODDBOX chef
SPICED CARROT & ONION BHAJIS W/ HERBY CHUTNEY 
Prep time: 15 minutes
Cook time: 10 minutes
Total time: 25 minutes
Servings:
Ingredients:
200 g Carrots (grated)
1 large Onion (finely chopped )
5 g Carrot tops (optional – but add a lovely herbiness to them)
2 tsp Curry powder
½ tsp chilli flakes
1 tsp Ground cumin
1 tsp Ground coriander
1 tsp Ground turmeric
Chilli (Small piece of fresh chilli, if you like heat, add a little more!)
120 g Gram (chickpea) flour
a pinch of Sea salt  (large)
Water
Coriander and Mint chutney (makes extra to keep in the fridge!):
75 g Fresh herbs (coriander, mint and some carrot tops if you have them. )
1 Garlic clove
5 g Sugar
Green chilli (1 inch piece)
Ginger (1 inch piece)
25 ml Lime juice (or lemon juice)
25 ml Water
10 ml Olive oil
Recipe:
Top and tail your carrots and give them a good scrub to ensure they are nice and clean. You can peel them but it isn't necessary. Make sure you keep those carrot tops to add in throughout the dish.
Grate the carrots and add them to a large bowl with the sliced onions and the rest of the ingredients. Season well. Mix the mixture with your hands to bind it ensuring that all the vegetables are coated. Add a little water (approx. 50 mls) to the mixture; you want it to be wet but not liquid.
For the chutney, add all your ingredients into a food processor and blend until you have a dipping sauce-like consistency. If it needs loosening, add a little more water and lemon juice.
Heat your oil in a pan and test with a little mixture to see if it is hot enough.  You can either deep fry or shallow fry these.
Spoon large tablespoons of the mixture into the hot oil. Fry in batches until golden brown, flipping them now and again. These should take about 5 mins to cook. You want to ensure that the middle of the bhajis have cooked through completely.
Pop them on a tray lined with kitchen roll and into a warm oven until ready to serve.  
Serve with your vibrant and zesty chutney, a sprinkling on carrot tops & fresh chilli.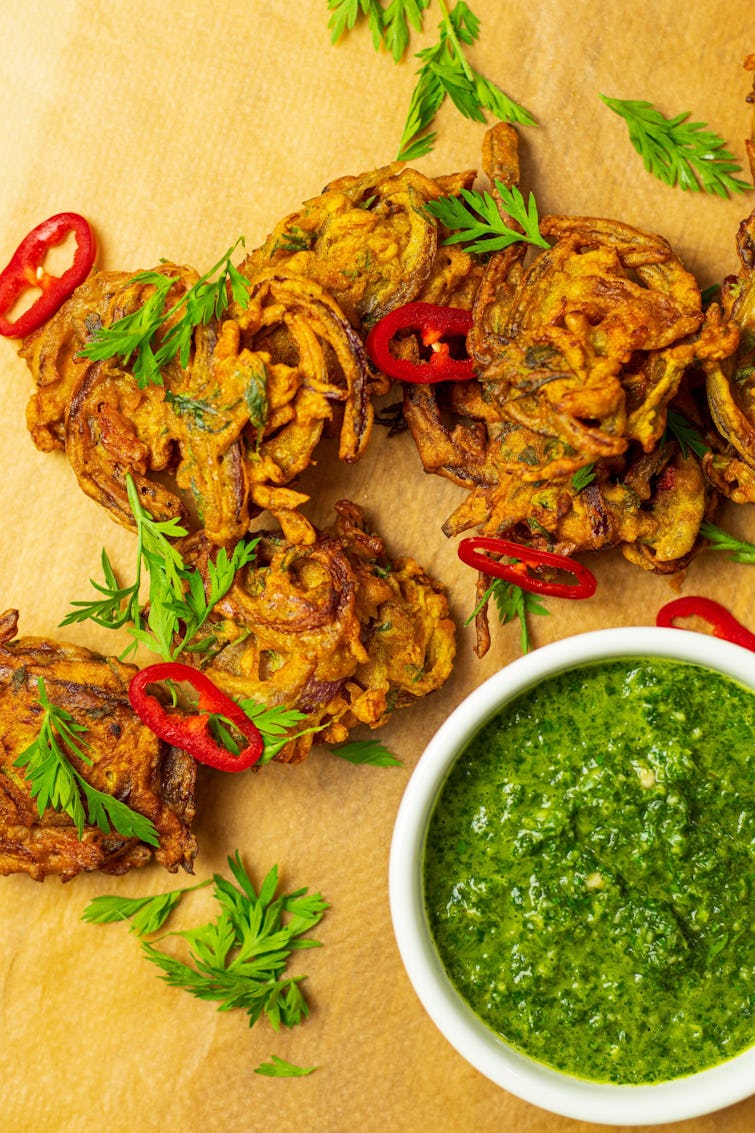 ---
Leftovers
If freezing, leave to cool, and lie flat in the freezer in a zip lock bag. To reheat, pop in the oven at 160 degrees for 10 mins.